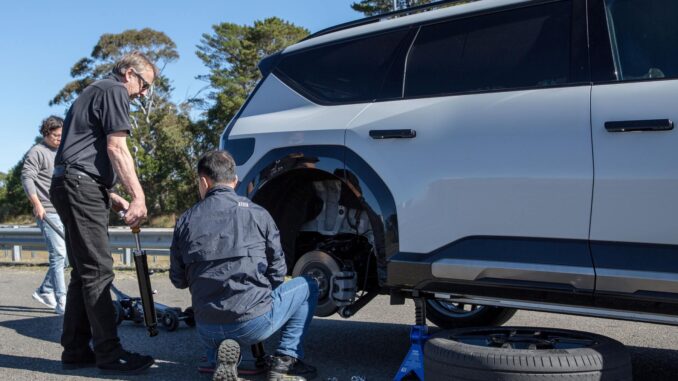 Kia EV9 Suspension localised tuning

Kia's next all-electric vehicle, the EV9 SUV, concludes local tuning
Kia Australia debut of Highway Driving Assist 2 (HDA2)
Introduction of Connected Car Navigation Cockpit (ccNC), Kia's next-generation telematics system
Over-the-Air (OTA) updates enables constant "wireless" improvements
Arriving in Australia October 2023

Kia EV9 Suspension tune
Kia Australia has released details about the EV9's local ride and handling tune ahead of its arrival into dealer showrooms in October. The all-electric Kia EV9 will become Kia's flagship model affirming the brand's ongoing evolution while providing drivers with their first opportunity to purchase an Upper Large electric SUV in Australia.
The Kia EV9, the brand's first three-row electric flagship SUV, which encapsulates bold styling and sophisticated elegance inside and out, represents a pivotal step forward in the company's journey towards becoming a sustainable mobility solutions provider and has been created to deliver new standards of space, practicality, flexibility, comfort and technology.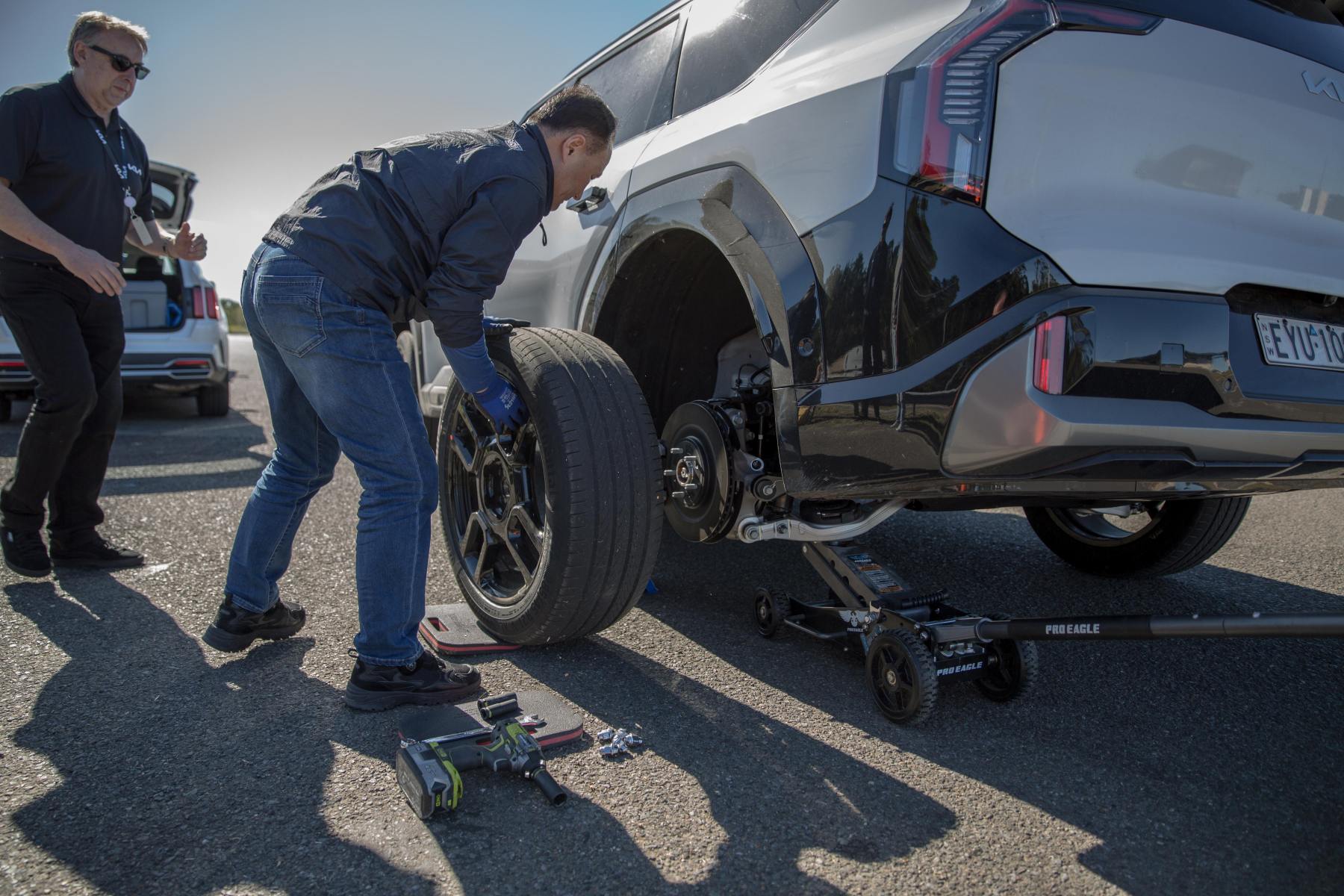 "Kia is about to liven up both the Upper Large SUV segment and electric vehicle market, with the addition of the all-new and very unique, Kia EV9," said Kia Australia's Chief Executive Officer, Damien Meredith.
"It's big, full electric on a dedicated EV platform, provides seven seats, equipped with some really impressive technology and it's locally tuned; there really isn't an apples to apples competitor in the local new car market.
"As with the arrival of the EV6 range, consumer interest in the Kia EV9 has been extraordinary but thankfully, we will be receiving better supply of the EV9 and planning for 100 per month."
Developed over a period of 44 months every facet of the EV9 has been pushed to the limits of durability at both Kia's global Namyang R&D Center in Korea and most recently, locally on Australian roads.
During the global testing phase of the Kia EV9, it was relentlessly subjected to a gruelling verification program on a 4WD climbing hill and a rough terrain track, as well as a deep-water wading test, to ensure maximum reliability even in the most challenging conditions. Kia's high-speed, handling, and low-friction tracks place every element of the EV9's performance and roadholding under the strictest scrutiny.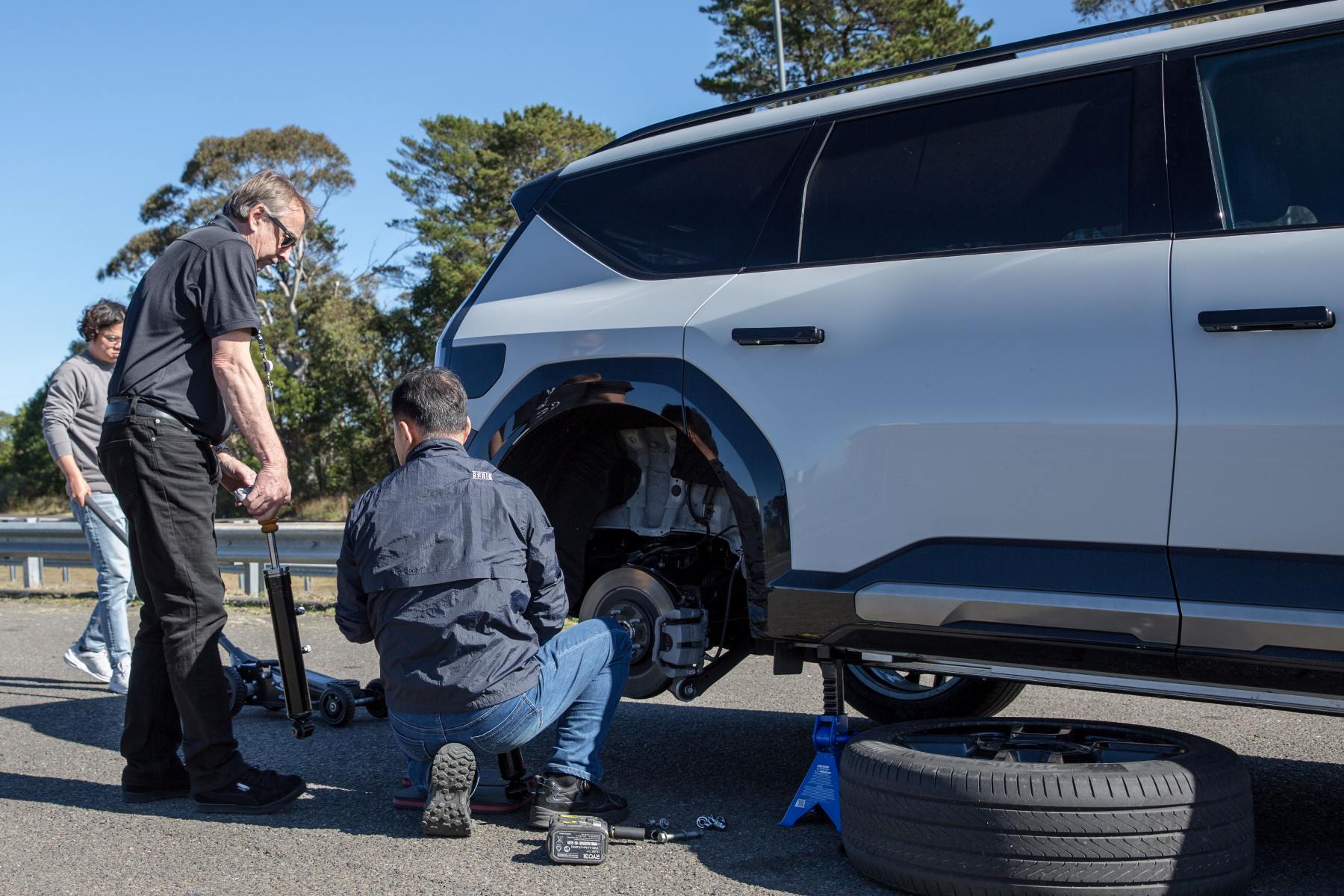 Australia Ride and Handling
The Kia EV9 has now been put to the test with Kia Australia's local ride and handling testing regimen ensuring its overall vehicle dynamics meet the expectations of Australian drivers, a new car buyer's requirement established by the EV6 electric vehicle range and the majority of Kia's internal combustion engine models before it.
"As the new halo product for the Kia brand, it was imperative that Kia Australia localised the EV9 to suit our roads and lifestyle," said Roland Rivero, General Manager Product at Kia Australia.
"We went through our normal robust program which commenced in Korea followed by detailed damper and steering development on Aussie roads, while collaborating closely with our colleagues from Namyang, who actually came to Australia with our key suppliers to support us throughout the process.
"The EV9 delivers a refined and polished ride across the varying conditions the Australian terrain offers."
Kia Australia's Chief Ride and Handling Engineer, Graeme Gambold added, "Overall, we are very happy with how the EV9 drives. It is comfortable, confident and surprisingly nimble despite its dimensions and mass."
"In line with the vehicle's size and versatility, our local tuning program focused on marrying the unique demands of Australian road conditions with making the EV9 a very comfortable and effortless family cruiser.
"We aimed to make it capable not only in the urban jungle but, also enjoyable on a long drive and on challenging rougher roads.  It does a great job absorbing bumps around town and soaks up the rough stuff at higher speeds on typical country roads, whilst maintaining good body control.
"This was also the first time we have worked with the combination of the E-GMP platform and self-levelling shock absorbers in the rear. The equipment all works in harmony for the EV9, keeping the vehicle level despite loads. This is important for this big and boxy 7-seater, ensuring front-end grip is maintained whether the EV9 has one driver, or a whole family plus cargo in the back.
"We are confident Australians will appreciate how the EV9 drives and how well it will cater to their lifestyle."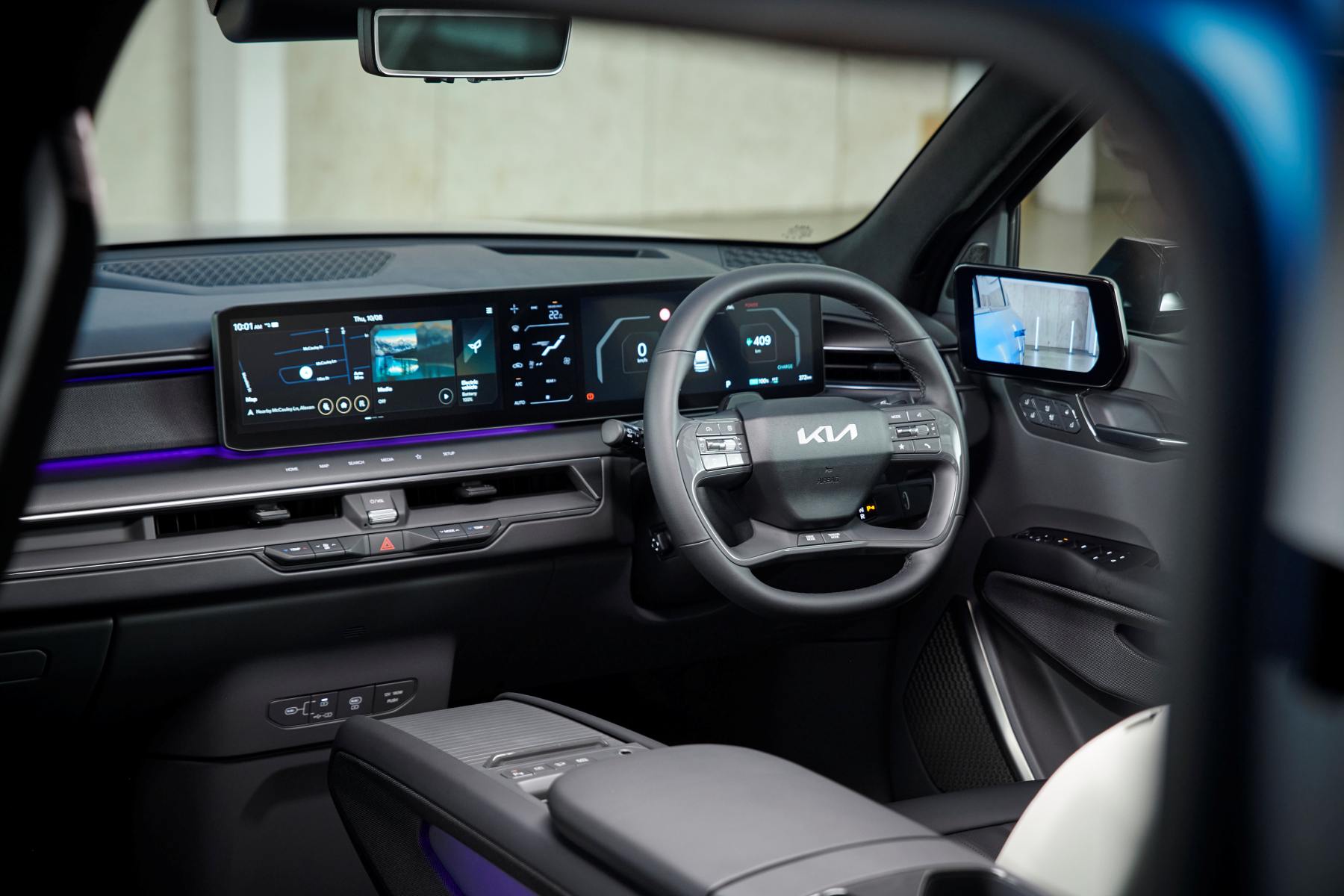 Kia EV9 advanced features
As the new flagship model, the Kia EV9 will be the most advanced product in the range, introducing several firsts for Kia in Australia. This includes Highway Driving Assist 2 (HDA 2), Kia's next-generation Advanced Driver Assistance System (ADAS) which functions only when driving on a freeway or motorway. HDA 2 fundamentally builds on adaptive cruise control with stop-and-go capability, combining with Lane Following Assist (LFA) to keep the car centred in the lane even when driving through a curve.
It adds a direct Hands-on Detection (HOD) sensor to the torque sensor recognition method to further enhance the recognition of the driver's steering control, providing warnings and if necessary, deactivation of HDA 2. As well as staying centred in the lane, HDA 2 can add a degree of offset to improve spacing between a vehicle in the adjacent lane.
Additionally, HDA 2 includes Lane Change Assist (LCA) which when activated whilst holding the steering wheel and fully engaging the turn signal in the desired direction, will automatically steer to the respective lane.
The Kia EV9 will also introduce the next generation of Kia's in-house developed infotainment and telematics system. Now termed Connected Car Navigation Cockpit (ccNC), this upgraded platform is designed to offer more processing power running on a new chipset and an even more user-friendly interface with revised graphics.
Kia's ccNC includes Over-the-Air (OTA) updates which enable the system to undergo constant "wireless" improvements, with the latest maps, interfaces and software enhancements, and all without customers having to visit a service centre.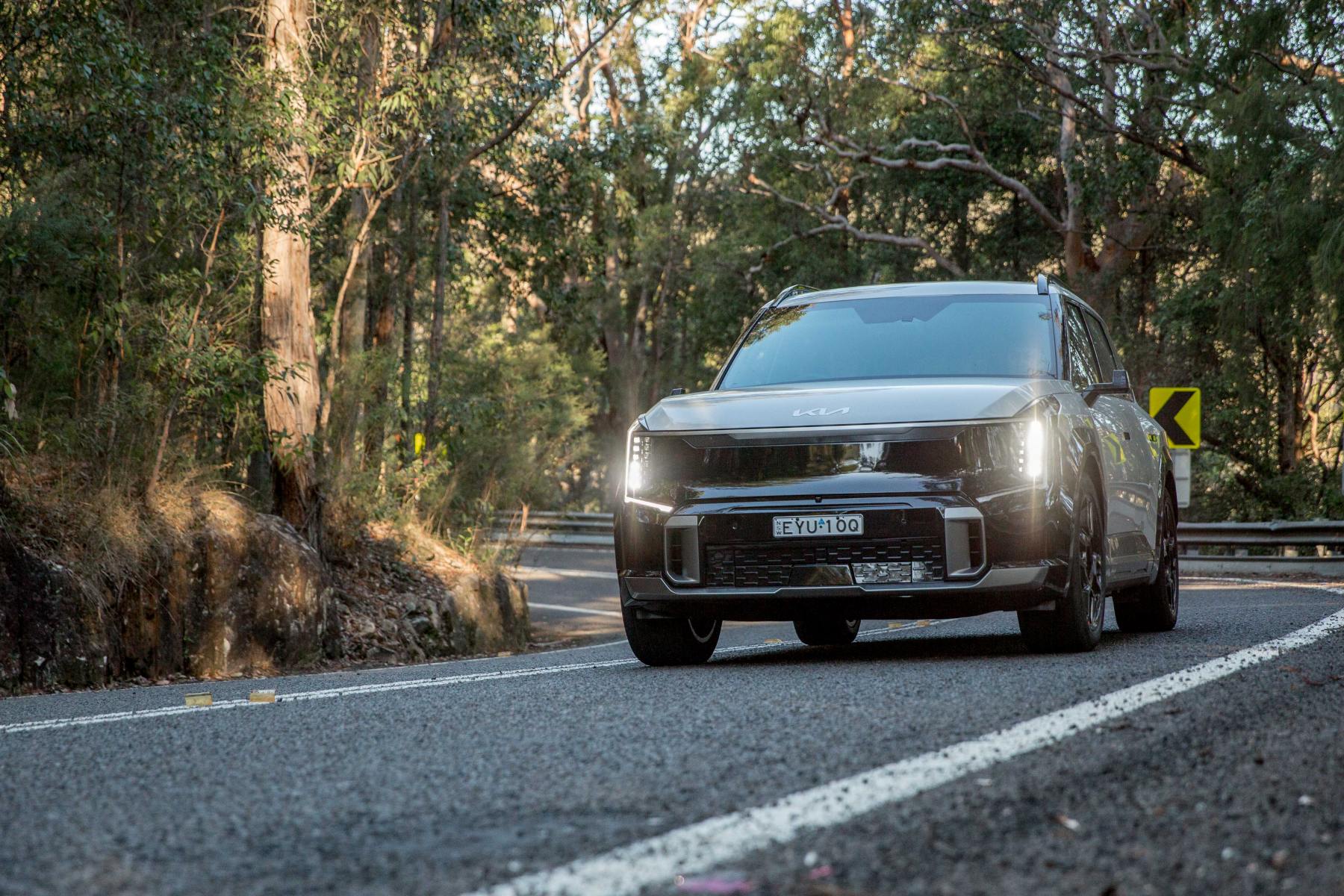 While numerous intuitive ways are presented for the driver and passengers to seamlessly engage with the EV9's advanced technology and features, they can also relax, secure in the knowledge that Kia's flagship SUV is continuously monitoring its environment, ready to react automatically, if required, to ensure the utmost safety of occupants, other drivers, and pedestrians.
The Kia EV9's unique mix of advanced assets combined with its exceptional dimensions (length of 5,010mm, a height of up to 1,755mm, a width of 1,980mm and a wheelbase of 3,100mm) has created a driver friendly and versatile Upper Large SUV.
The Kia EV9 will be introduced in Australia with both the long-range 99.8 kWh AWD and standard-range 76.1 kWh RWD battery options.
Further details on local specifications for the Kia EV9 will be announced closer to its October launch date.
Kia pushing boundaries update 29 March 2023
Kia has revealed full details of the Kia EV9, its first three-row seat electric flagship SUV that brings fresh thinking, design, and technology to the sector and spearheads the brand's rapid transformation to a sustainable mobility solutions provider in the era of electrification.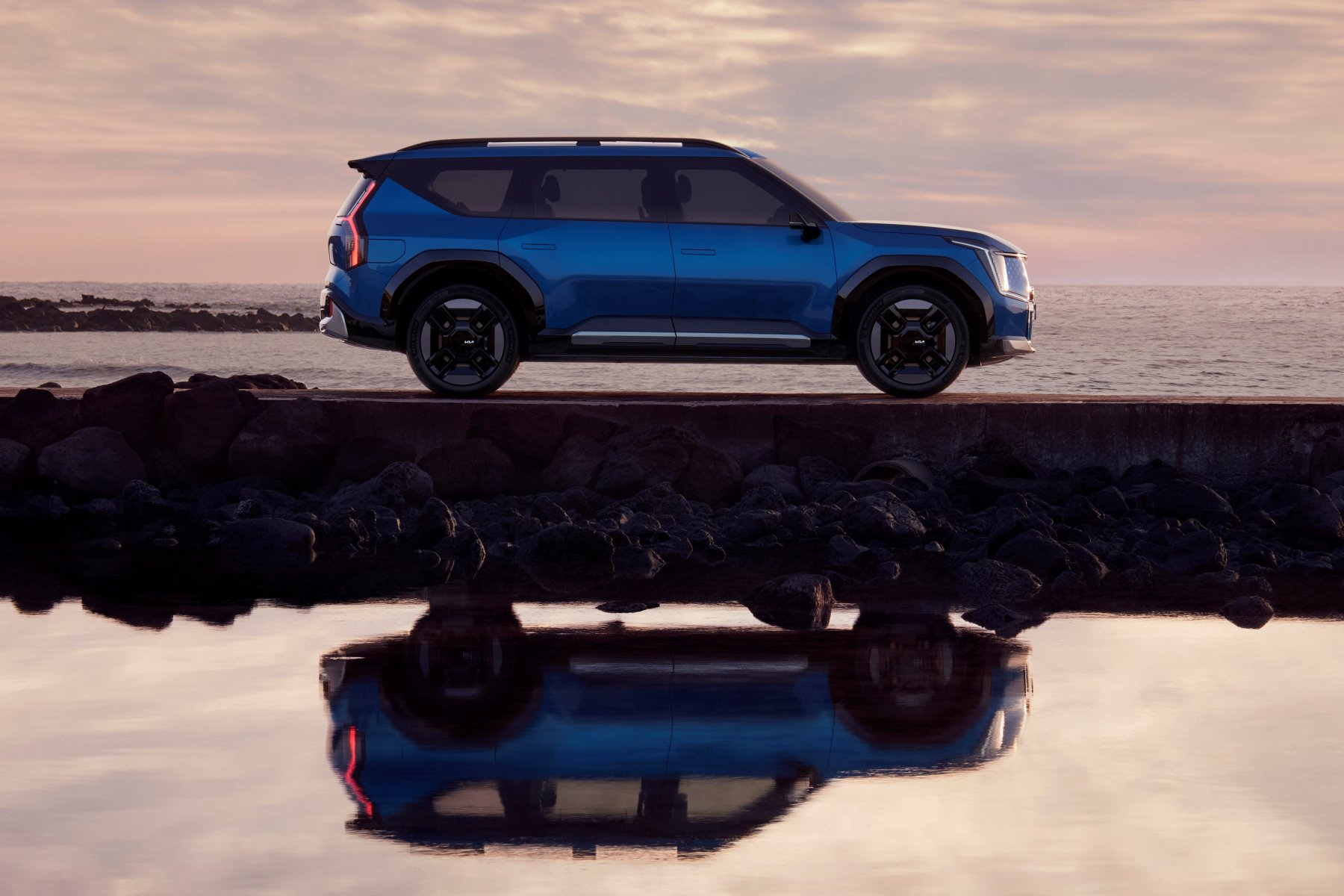 Breakthrough SUV EV redefines user experience with enhanced space and comfort for all occupants
Kia drives towards sustainability with the EV9 by embracing sustainable and biomaterials on path to carbon neutrality
Kia plans to introduce conditional Level-3 Autonomy via Highway Driving Pilot (HDP)[1] in GT-Line
All-electric WLTP target range over 541 km on a single charge; 239 km range with 15 minutes ultra-fast 800-volt charging time
Kia Connect Store enables customers to update features of their EV9 Over-the-Air (OTA), anytime, anywhere
EV9 accelerates Kia's transition to a sustainable mobility solutions provider
Based on the game-changing Electric Global Modular Platform (E-GMP), the EV9 ensures athletic performance, complemented by a targeted all-electric range over 541 km, according to the World harmonized Light vehicle Testing Procedure (WLTP). Ultra-fast 800-volt charging capability enables the EV9 battery pack to be replenished with sufficient charge to power the vehicle for 239 km in approximately 15 minutes.
Numerous technological breakthroughs include the Highway Driving Pilot (HDP) system, available in the Kia EV9 GT-Line in the future, enabling conditional Level 3 autonomous driving in selected markets. It also introduces the Kia Connect Store, which enables customers to purchase digital features and services on demand, giving them the flexibility to choose the features they want and continuously upgrade the capability of the EV9 with Over the Air (OTA) updates at any time.
Ho Sung Song, President and CEO, said: "The Kia EV9 transcends all aspects of traditional SUV thinking and represents the pinnacle of Kia's design and engineering capabilities. Created to meet the needs of all family members, the EV9 also spearheads Kia's rapid transition to a sustainable mobility solutions provider, not just by its advanced EV architecture, but also through the numerous recycled and sustainable materials used in its creation."
Kia will begin offering pre-orders of the EV9 for the Korean market in the second quarter of 2023. The Kia EV9 will go on sale in selected global markets from the second half of the year.
Kia has released the EV9 world premiere video with full details of the model. The video can be viewed on the Kia EV9 global brand page at https://worldwide.kia.com/int/ev9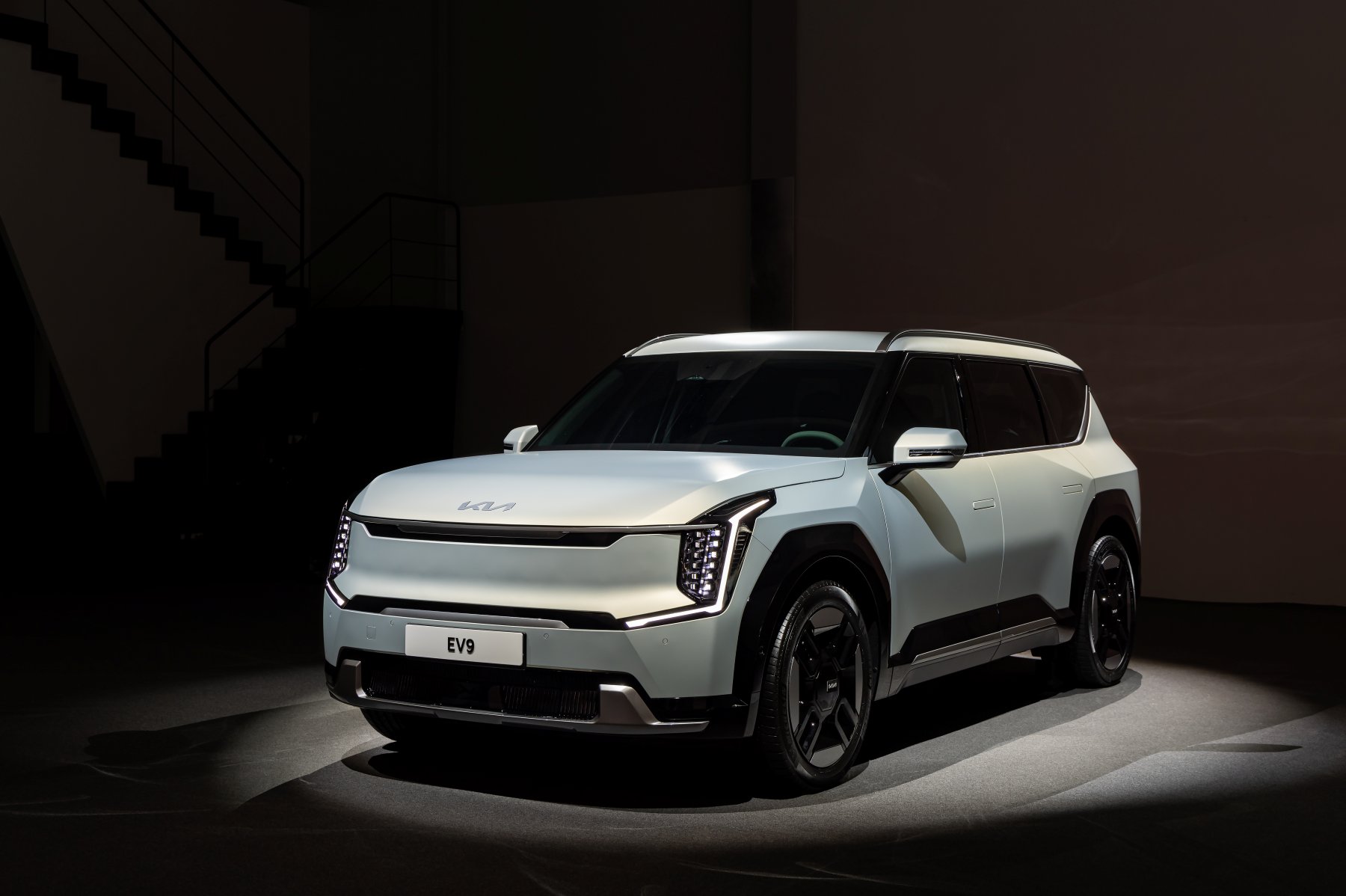 Design: reshaping the SUV user experience for millennial families
Guided by the brand's 'Opposites United' design philosophy, the EV9 re-envisions the all-electric SUV with a unique balance of natural and modern elements. The 'Bold for Nature' design pillar, which inspires the combination of elements from the natural and material worlds, has played a pivotal role in forming the design of the EV9.
The Kia EV9's exterior provides a sense of serene contemporary calmness befitting of a sophisticated EV for a new age of sustainable mobility. The vehicle features a 3,100-mm wheelbase, supported by a choice of 21-inch, 20-inch or 19-inch wheels. With an overall length of 5,010 mm, it stands at 1,980 mm wide and 1,755 mm tall, displaying a bold and contemporary appearance while still maintaining its unique character.
The EV9's front exudes confidence, clarity, and calmness with its clear-cut lines and surfaces. The SUV's signature 'Digital Tiger Face' showcases its unique identity, which is accentuated by the 'Digital Pattern Lighting Grille' and vertical headlamps, giving the EV9 a visionary and futuristic look. The Digital Tiger Face also features two clusters of small cube lamps adjacent to each headlamp. The EV9's 'Star Map' LED daytime running lights (DRL) create a sophisticated animated lighting pattern that will signify Kia's Digital Tiger Face for future EV models, while providing a new illumination experience.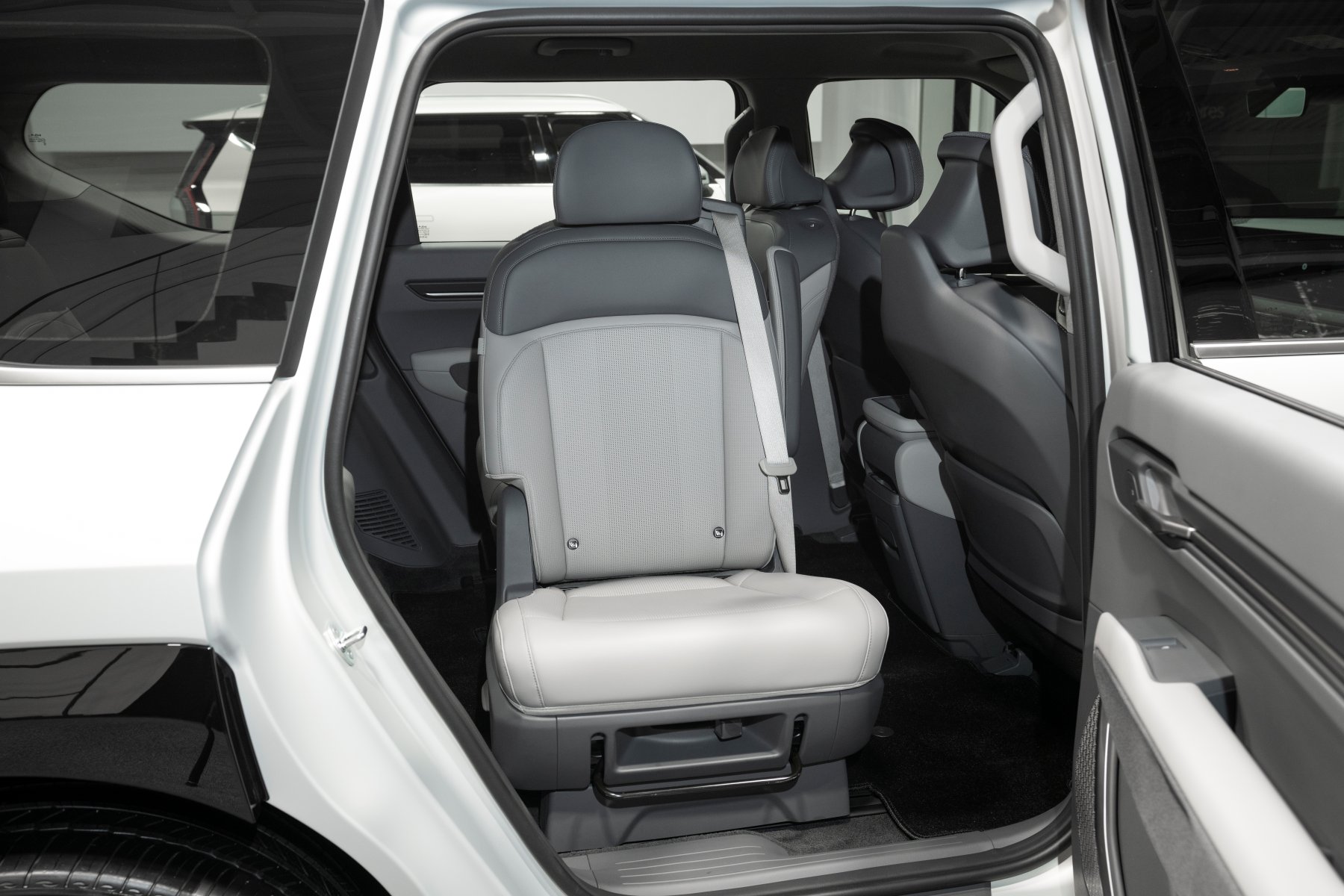 In addition to the standard model, Kia has unveiled the GT-Line model design, which features a unique aesthetic that distinguishes it from the standard model. The front and rear bumpers, wheels, and roof rack have undergone a transformation, and the GT-Line features a distinctive black color palette exuding a strong and assertive presence, setting it apart from its standard counterpart. Notably, the GT-Line includes an exclusive 'Digital Pattern Lighting Grille' that adds an element of dynamism and sophistication to its already impressive design.
Beyond its stunning exterior, the EV9 also delivers on performance with an impressive aerodynamic coefficient of 0.28. This has been achieved through the implementation of several advanced features. These include Kia's first-ever 3D-sculpted underbody cover, which features a convex shape at the front and a concave shape at the rear, along with aerodynamic wheels, and innovative air curtains integrated into the front bumper. These elements combine seamlessly to provide superior airflow control and optimized performance and efficiency, delivering an exhilarating driving experience.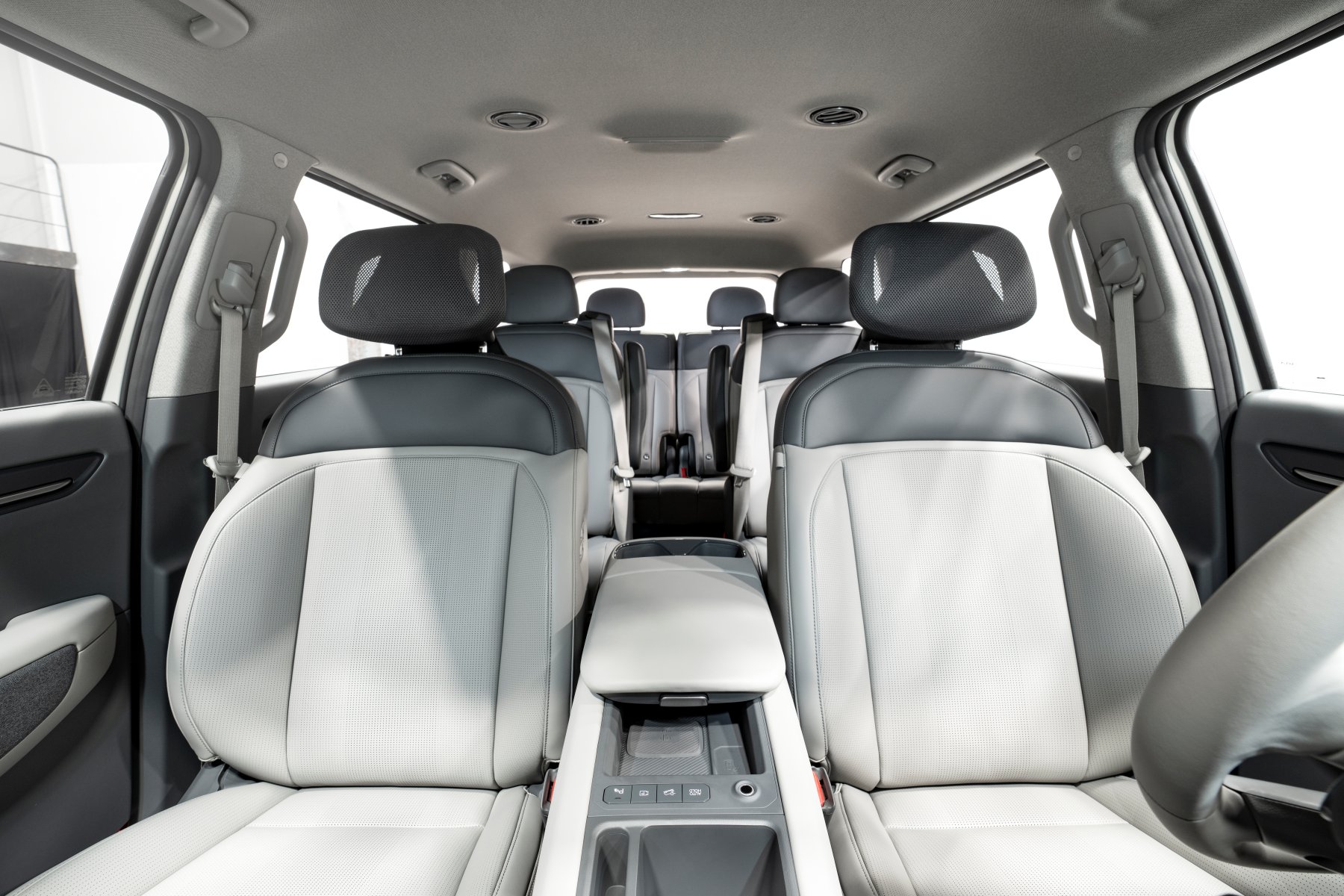 The Kia EV9 offers a range of seating options that cater to diverse needs. It offers seven-seater and six-seater configurations and a variety of second-row seat options, totaling to four, suitable for different situations such as moving, charging, and resting. The first-row features relaxation seats that ensure a comfortable resting posture. The second row, for the first time among global EV models, offers four seating options, including 3-seater bench seats, basic-type, relaxation-type, and swivel-type two-seater independent seats, providing customers with a variety of usage methods to choose from.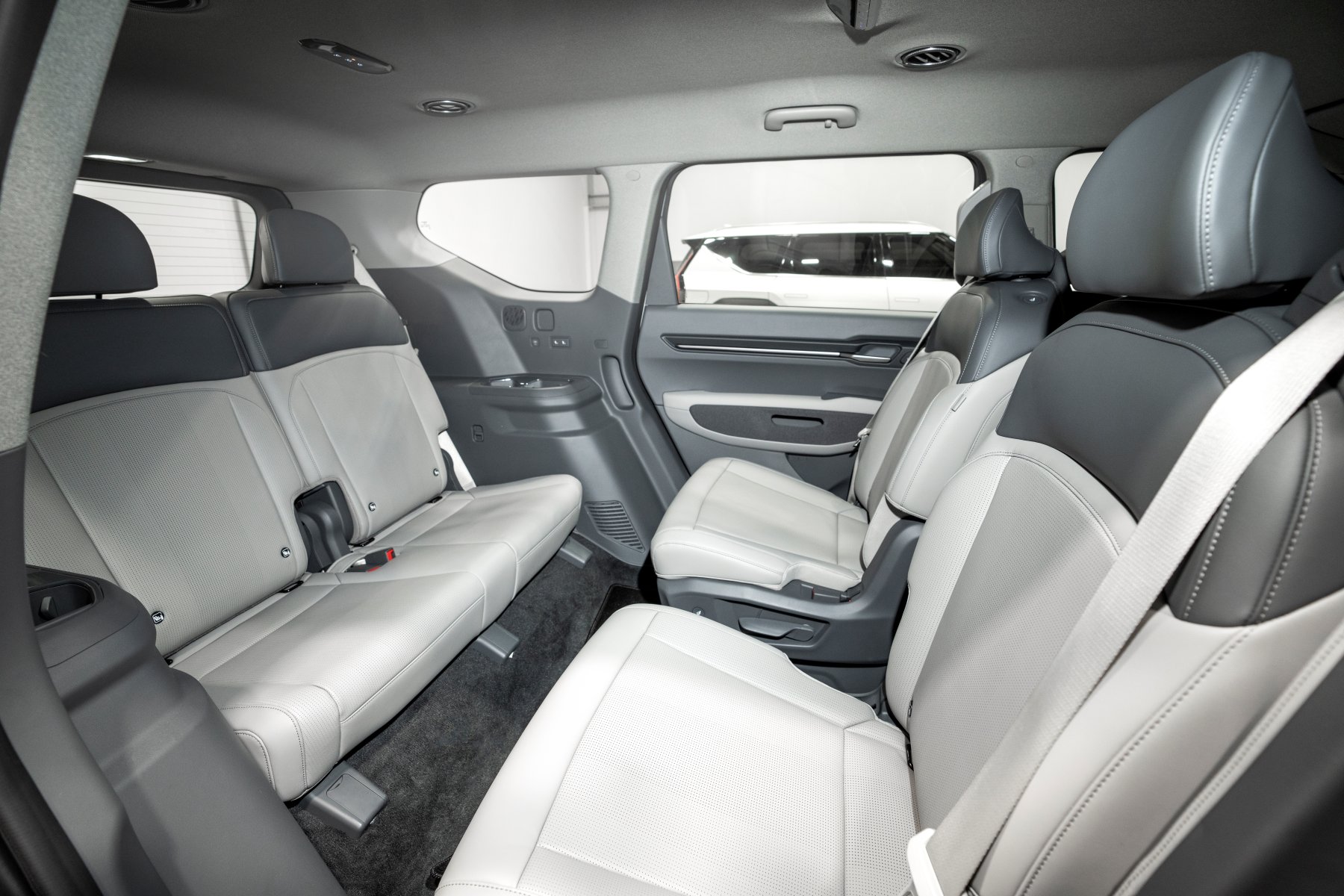 When equipped with the second-row relaxation seats, the EV9 allows first and second-row occupants to recline together while the SUV is charging. With the swivel seat option, the second-row seats swivel 180 degrees to enable conversations with those seated in the third row. Occupants in the third row are provided with charging points and cup holders.
More information on Kia EV9 design is available in the design reveal press release at https://www.kianewscentre.com.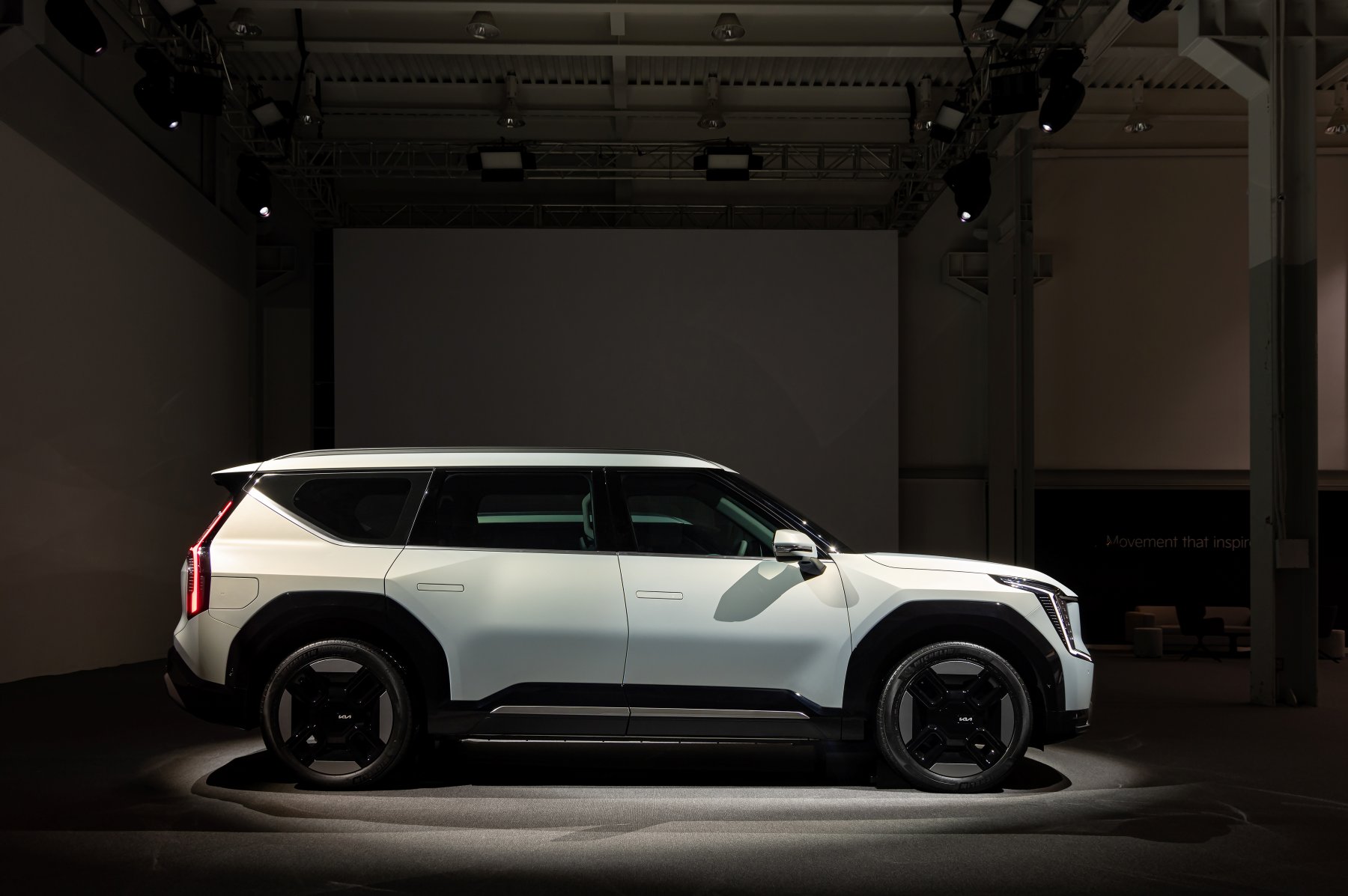 Sustainability: setting new standards for responsible mobility
Kia's strategic commitment to become a leader in sustainable mobility, and its declared roadmap to achieve carbon neutrality by 2045, extend beyond the provision of zero-emission EV drivetrains. They also encompass the materials used in the vehicle's construction, and the EV9 takes this to the next level, with eco-friendly materials applied to set new standards in sustainable mobility.
The Kia EV9 marks a pioneering milestone as the first model to embrace the brand's three-step Design Sustainability Strategy, initiated to phase out the use of leather, apply ten 'must-have' sustainable items to all new Kia models and continuously increase the use of bio-based materials such as corn, sugar cane, and natural oils. Kia's target is to increase the proportion of recycled plastics it uses to 20 per cent by 2030.
The EV9's color palette draws inspiration from nature's four core elements, namely light, air, earth, and water, to establish a connection with nature's beauty and fuse it into the EV9's design philosophy.
The EV9's interior features a total of six different combinations, from a light modern grey to elegant natural tones and a more sporting version for the GT-Line.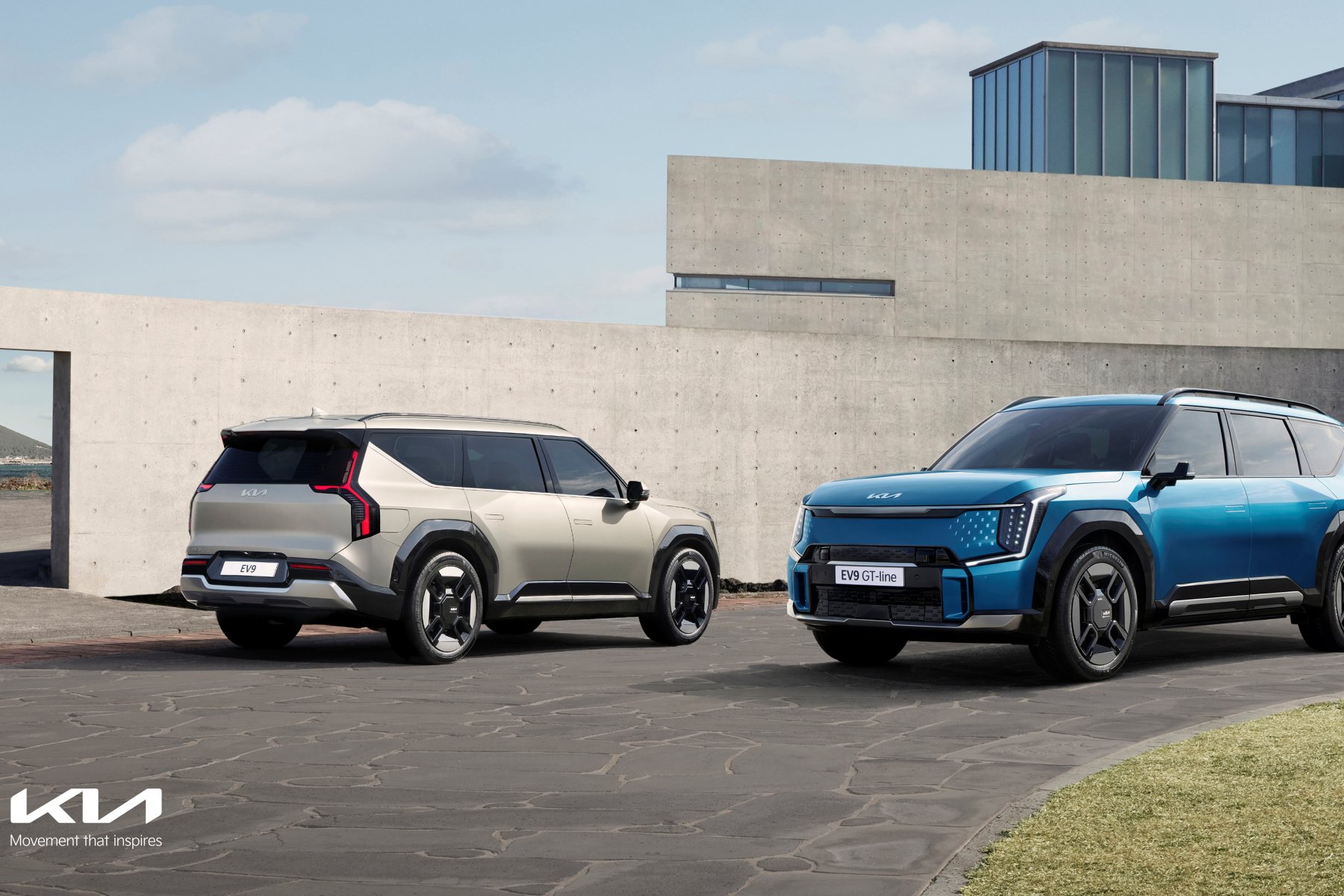 Electric drivetrain: full range of multiple zero-emission mobility solutions
The EV9 features a broad choice of electric powertrain configurations based on the Electric Global Modular Platform (E-GMP) and utilizing Kia's fourth-generation battery technology. A 76.1-kWh battery is offered exclusively with the Rear Wheel Drive (RWD) Standard model[7], while a 99.8-kWh battery is fitted in both the RWD Long Range and All Wheel Drive (AWD) variants.
The RWD Long Range model utilizes a 150 kW / 350 Nm electric motor, endowing the SUV with the ability to accelerate from 0-to-100 km/h in 9.4 seconds, as preliminary data reveals. Also powered by a single electric motor, albeit a more powerful 160 kW / 350 Nm variant, the Standard RWD EV9 can accelerate from 0-to-100 km/h in 8.2 seconds.
The AWD variant is equipped with two electric motors that together unleash a total power output of 283 kW and a combined torque of 600 Nm. This potent combination enables the SUV to surge from 0-to-100 km/h in just 6.0 seconds. And even greater levels of performance are available with an optional Boost feature, available for later purchase at the Kia Connect Store. The combined torque is increased to an exceptional 700 Nm, enabling the EV9 to accelerate from 0-to-100 km/h in 5.3 seconds.
Kia's holistic approach to engineering the EV9's electric powertrain has ensured that the SUV's athletic performance is complemented by exemplary range. This enables EV9 customers to spend as much time as possible on the road and as little as possible at the charging station, inspiring complete confidence in families to undertake lengthy road trips. For example, the RWD Long Range model with 19-inch wheels offers an estimated target range of over 541 km, according to WLTP. Using an ultra-fast 800 Volt charging system, the vehicle's battery pack can be replenished with sufficient charge to power the vehicle for 239 km in approximately 15 minutes.
The EV9 comes with Vehicle-to-Load (V2L) functionality through its Integrated Charging Control Unit (ICCU), enabling the discharging of energy from the vehicle battery. Families can use up to 3.68 kW of power for laptops or camping equipment.
 Highway Driving Pilot: unlocking conditional Level 3 autonomy
The EV9 will take a significant step towards full autonomy. Key to achieving this is Kia's Highway Driving Pilot (HDP) system, which will provide the EV9 with conditional Level 3 autonomous driving. Fifteen sensors, including two lidars, enable it to scan for and detect objects in a full 360-degree field of view, enabling it to detect and react to the road and other users to prevent potential collisions.
By providing intelligent, proactive, real-time assistance across a wide range of conditions, Kia's Highway Driving Pilot (HDP) system will meet the criteria required to deliver Level 3 autonomy in certain areas of the world. The car will be capable of conditional driving automation where conditions permit, enabling the driver to temporarily take a break from controlling the vehicle.
Kia is planning to offer the HDP in the EV9 GT-Line model in the future. Further details on the HDP will be disclosed nearer its market availability.
Kia Connect Store: update your EV9 anytime anywhere
Kia's fresh thinking as to what a family SUV should be extends to how customers can select the equipment specification of their EV9. Beyond the standard features of the EV9, the Kia Connect Store offers a wide array of options. This enables customers to keep their EV9 constantly updated by upgrading the SUV's digital features and services without any need to take the vehicle to a dealership. The EV9's 'Digital Pattern Lighting Grille' technology can be further enhanced with the addition of the 'Lighting Pattern' feature. Customers can also specify additional performance for the AWD EV9 with an optional Boost feature unlocks an extra 100 Nm of torque for the electric motor for a more thrilling and dynamic driving experience.
Kia's Remote Smart Parking Assist 2 (RSPA 2) is also offered as a digital feature, as is content streaming for occupants to enjoy through the vehicle's Audio Visual, Navigation and Telematics (AVNT) system.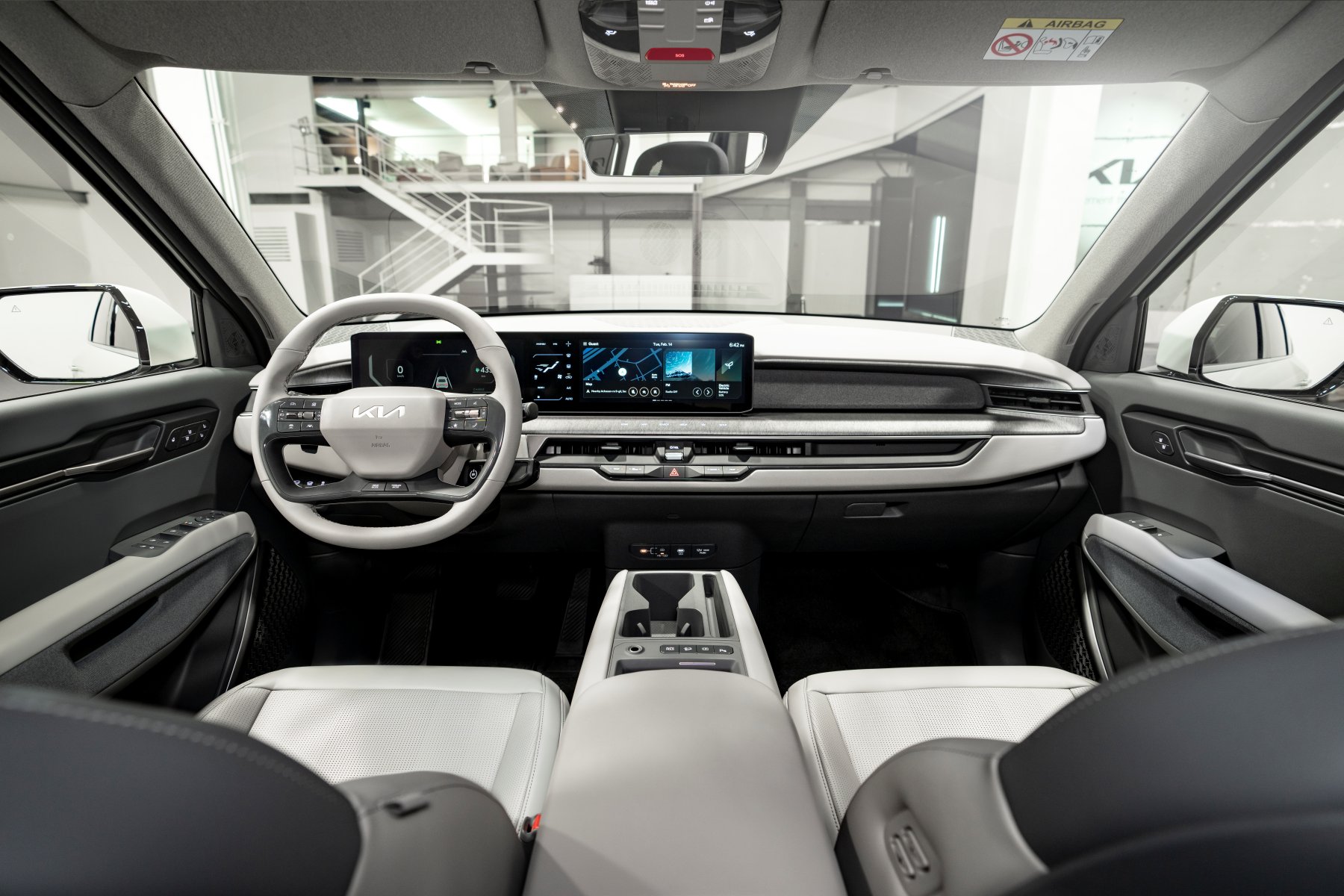 Safety and convenience: designed and engineered to enhance the driving experience of all occupants
The EV9's numerous additional features facilitated by Advanced Driver Assistance Systems (ADAS) include Remote Smart Parking Assist 2 (RSPA 2). This technology enables the EV9 to park itself without the need for driver intervention, whether in or out of the vehicle, with the driver initiating the procedure via the Kia smart key called Digital Key 2.
By using ultrasonic sensors to detect obstacles, the RSPA 2 automatically maneuvers the EV9 into the designated parking space, controlling the accelerator, brakes, and gearshift. The system also automatically applies the brakes if an object representing an obstruction is detected in the vehicle's path. The EV9 also features Rear Cross-Traffic Collision-Avoidance Assist (RCCA) to prevent collisions with oncoming vehicles when reversing.
Alongside these features, the vehicle incorporates numerous advanced driver assistance systems from Kia to enhance passenger safety, such as Blind-Spot Collision-Avoidance Assist (BCA), Lane Keeping Assist (LKA), and Intelligent Speed Limit Assist (ISLA), designed to aid drivers in potentially dangerous scenarios. The Navigation-based Smart Cruise Control (NSCC) ensures safe driving on highways and automobile-only roads, while Highway Driving Assist 2 (HDA 2) enables lane changes and uses a hands-on detection (HOD) sensor to ensure driver engagement.
In addition, the EV9 offers pre- and post-driving safety and convenience with features such as Rear Cross-Traffic Collision-Avoidance (RCCA) and Parking Collision-Avoidance Assist (PCA). Finally, Digital Key 2 utilizes Ultra-Wide Band (UWB) technology, allowing users to open and start their car using their smartphone, even when the key is in their pocket or bag – another first for Kia.
Kia has leveraged only the most advanced engineering design and technologies to provide EV9 customers, and their families, with optimum safety in all conditions. The EV9's chassis frame structure features an exceptionally high-torsional stiffness and the world's first patent-pending B-pillar connection structure technology featuring an extended overlap between crash barrier and side sill. These technological advances provide class-leading levels of protection and safeguarding for both occupants and batteries, with in-cabin protection enhanced by ten airbags.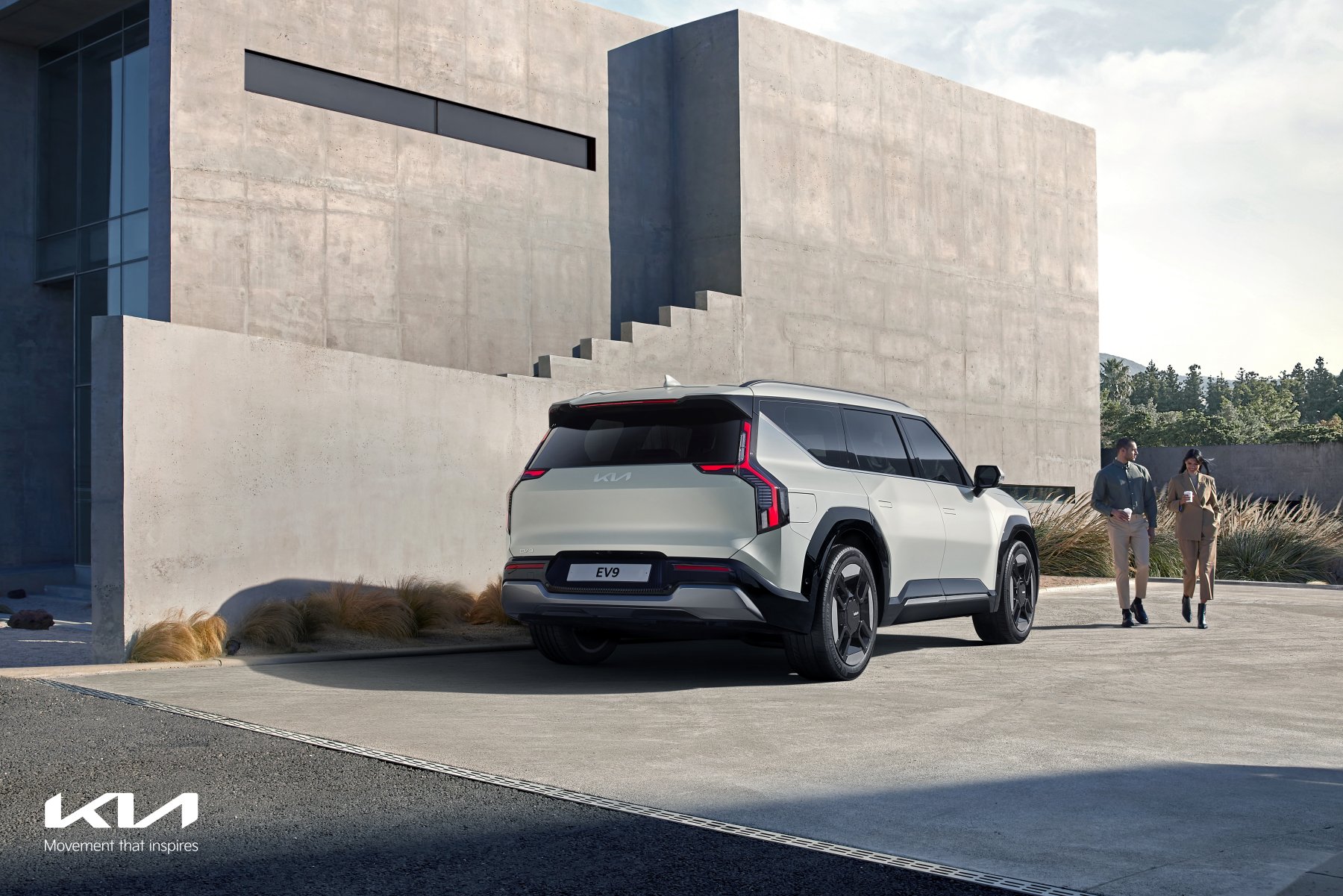 Kia's global campaign for the EV9: 'Here to reshape the way we move'
Kia is set to embark on a series of global campaign activities, encapsulated in the statement 'Here to reshape the way we move'. This statement speaks to the company's commitment to innovation and its vision for a future that is more sustainable, efficient, and convenient.
The EV9 is set to make its inaugural physical debut at the Seoul Mobility Show 2023 later this month. It will then be showcased at this year's New York International Auto Show in early April. With the EV9, Kia is poised to set a new standard for electric vehicles that revolutionizes the concept of traveling in style and comfort.