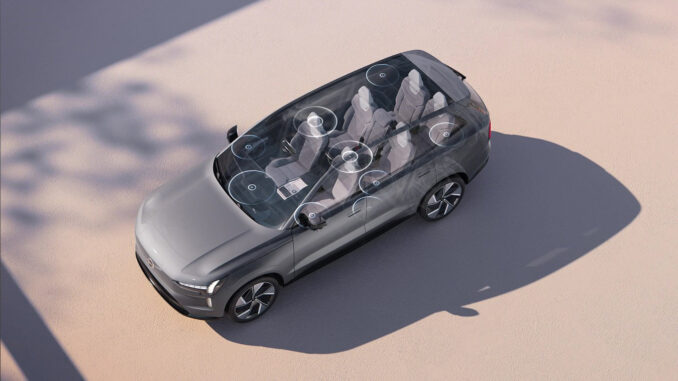 Volvo EX90 Bowers & Wilkins –  There's nothing quite like being surrounded by a perfectly blended symphony of sound, and what was once reserved for studio professionals and other audiophiles will now be available in the Volvo EX90.
In our new fully electric SUV, we're offering an audio system that creates an immersive, high resolution sonic experience. The Bowers & Wilkins High Fidelity sound system pairs perfectly with our quietest Volvo cabin yet.
Volvo EX90 – Sound as it's made to be heard
Even when the Volvo EX90 was nothing more than a sketch on paper, our designers collaborated with the audio engineers at Bowers & Wilkins to ensure that no matter your preferred position in our 7-seater, you will be able to enjoy ultra-realistic 3D surround sound from the 25 speakers throughout the cabin.
"For the new Volvo EX90, Bowers & Wilkins was a natural and obvious choice as the partner for our premium audio system. Its highly acclaimed approach to sound exudes quality and complements our design language seamlessly," says Jorge Furuya, our head of car UX at Volvo Cars. "This premium audio experience is what our customers have come to expect from us and we are happy to partner with some of the most respected names in audio to deliver it."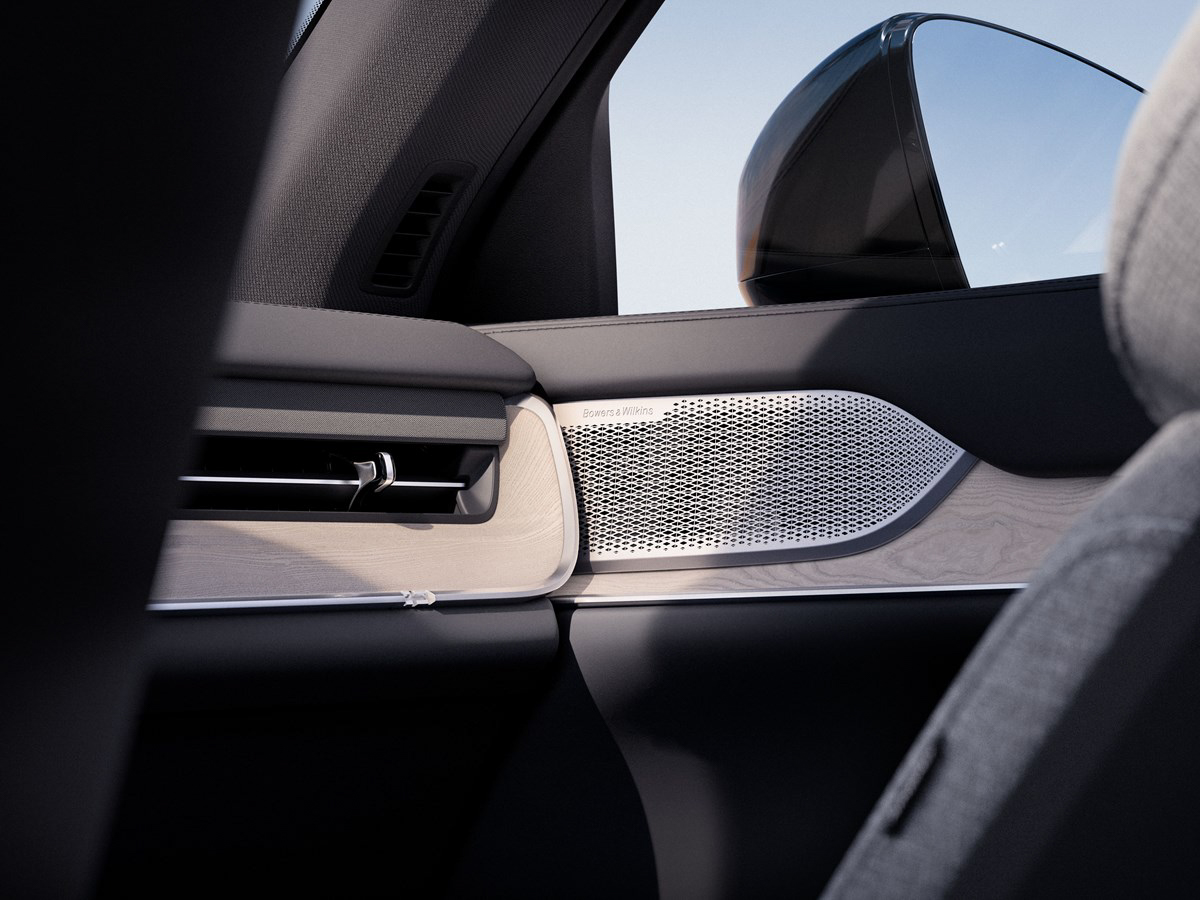 With optimised speaker placements and studio-derived loudspeaker technology, music flowing through the 1610W system is delivered to your ears precisely as the artist intended; a philosophy which Bowers & Wilkins calls 'True Sound'.
To make the most of the optimally positioned speakers, listeners can also experience sound in their Volvo car like never before with Dolby Atmos. When artists or creatives make a song, podcast or other content in Dolby Atmos, they're able to place individual sounds intentionally in three-dimensional space to create a rich and detailed experience for listeners. In the EX90, with Dolby Atmos through the Bowers & Wilkins speaker system, everyone in the car can enjoy a more immersive sound experience with greater depth, details and clarity.
The audio system is enhanced further by surround sound listening modes which allows listeners to tailor the sound to suit personal tastes.
Studio mode replicates the neutrality and purity of sound in a recording studio and can be optimised for passengers in any seat. The Individual Stage setting delivers the sensation of an artist performing just for you, and Concert Hall mode reproduces the acoustic ambiance of the Concert Hall in our home city of Gothenburg.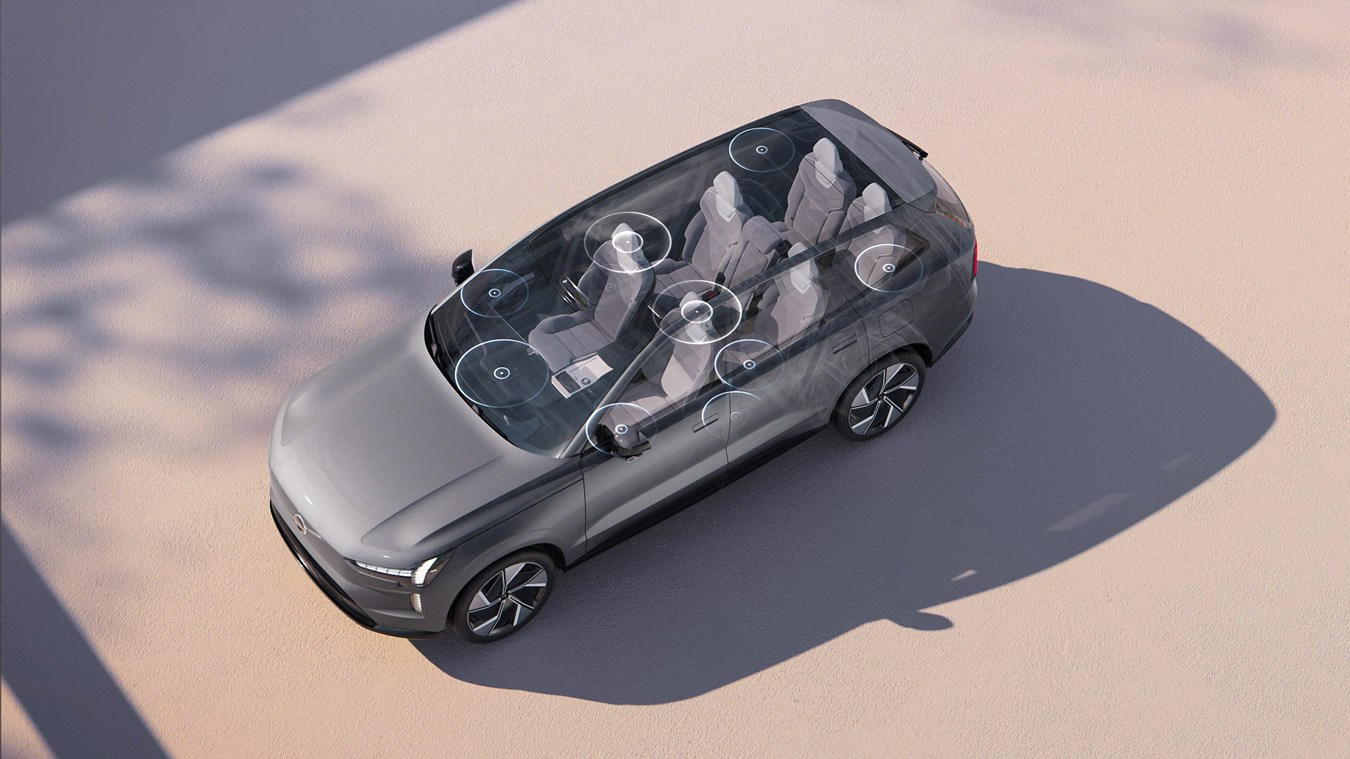 The carefully integrated placement of the speakers – in the dashboard, doors, headlining, rear-wheel housing and built-in to the headrests of the front-row seats – contributes to our minimalist, Scandinavian design language.
Many of the speakers feature bespoke double-etched and brushed stainless steel speaker grilles housed in backlit wood panelling, achieving a high level of acoustic transparency for the best possible sound quality without compromising the premium design detailing.
"As we move towards a decade of close collaboration with our partners at Volvo Cars, we are proud to bring the premium audio system in the Volvo EX90 to the market," says Dan Shepherd, Vice President Licensing Partnerships at Bowers & Wilkins. "The latest and most sophisticated in-car entertainment system we have developed together, it provides an exceptionally realistic and immersive listening experience."
To learn more about the inspiration and creative approach of our designers: