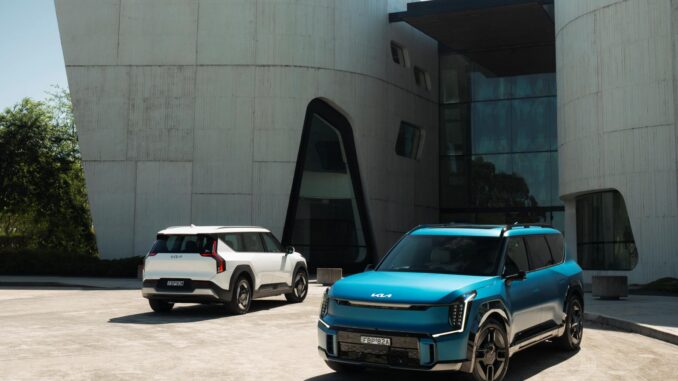 Kia EV9 – Kia has released the all new EV9 SUV. This is a seven seat all electric SUV that is sure to make many premium brands look over their shoulder.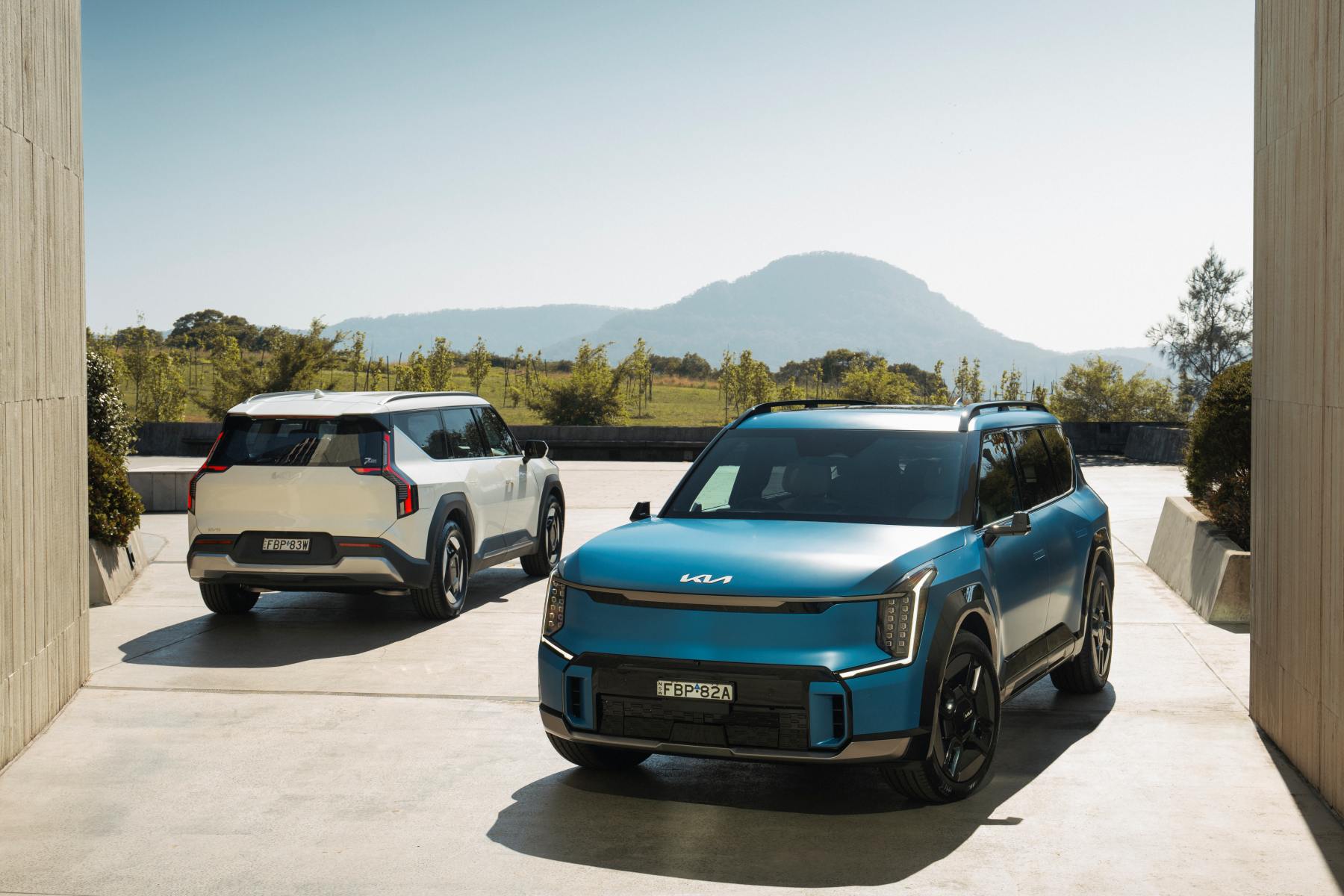 In short, its simply stunning.
The EV9 comes in two versions immediately, the entry level Air priced from $97,000 and the top spec GT-Line, priced at $121,000. These are all plus the usual costs.
Its big with an overall length of a bit over 5.0 metres and yet looks smaller. It's a box on wheels yet looks stunning. Inside its cavernous with ample room for seven.
The EV9 is engaging to drive with substantial performance and the suspension tuning for Australian conditions is spot on. It feels firmly planted to the road and the hefty 2600kg weight helps. Given that weight, the 0-100km/h time for the AWD GT-Line of 5.3 seconds is impressive.
You expect electric cars to be quiet. But not this quiet. There is almost no exterior road or traffic noise that invades the cabin.
Kia has excelled with the EV9. It has a level of intelligent convenience that cars twice its price aspire to.
This is a Motoring Minute
I'm Rob Fraser
TO LISTEN TO KIA EV9 RADIO REVIEW CLICK BELOW
Kia EV9 Video
More Kia EV9 Details
Quick highlights for the EV9
Three models Air, Earth, and GT-Line
Two are available immediately the EV9 Air and EV9 GT-Line
The Earth is coming early next year.
Pricing is $97,000 for the single motor RWD Air. It has 160Kw/350Nm available
Pricing is $106,500 for the dual motor AWD Earth with 283Kw/700Nm available and
Pricing is $121,000 for the dual motor AWD GT-Line.
All plus the usual costs.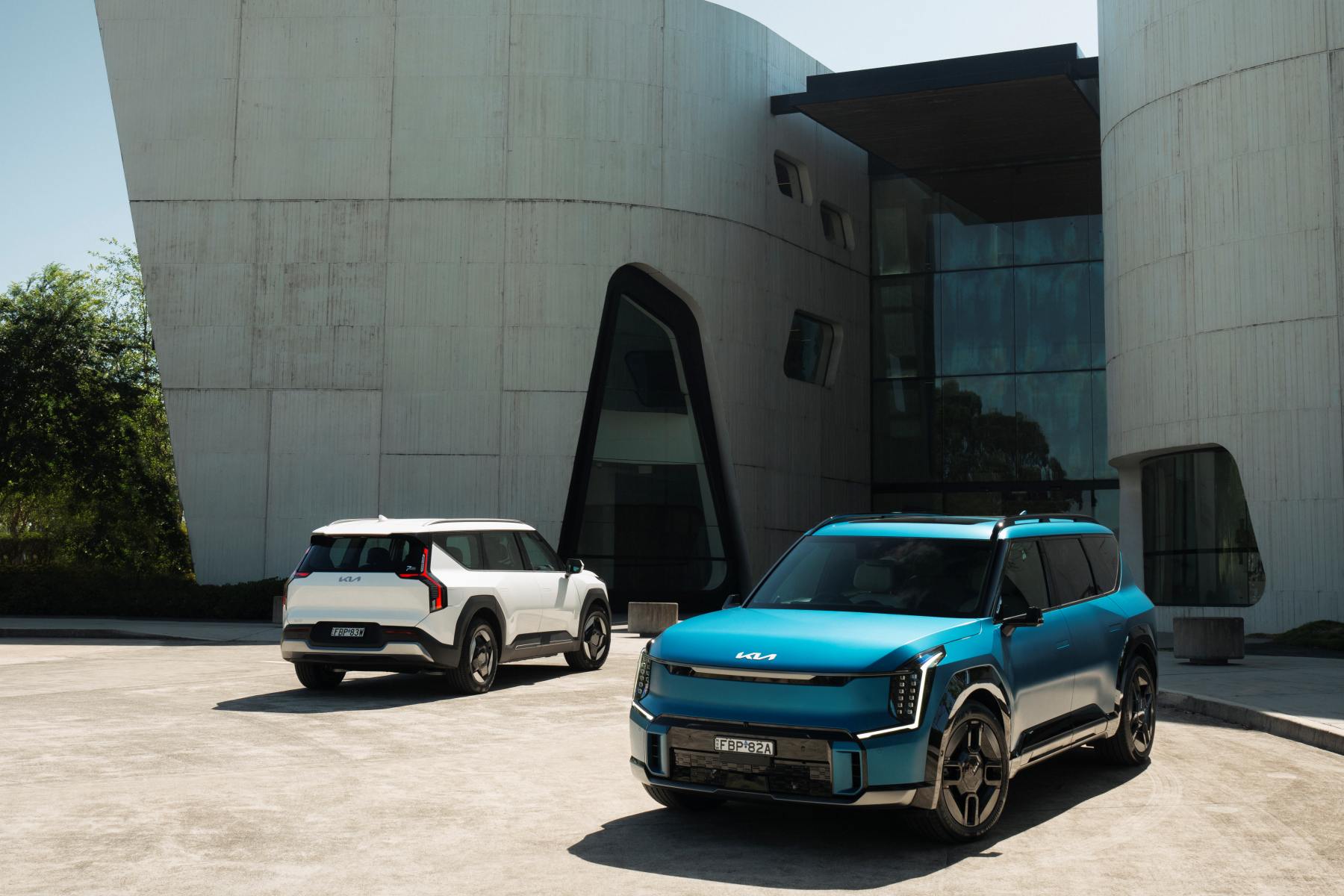 What does Kia EV9 look like?
Like a box on wheels.
Big yet stylish.
Sleek yet long.
It has a most unusual design.
Kia have excelled.
Like the EV6, the EV9 has benefitted from a blank sheet of paper design parameters.
I'm sure it will polarise people, but I liked it. Somehow Kia have managed to make a 5.0m plus design look a metre smaller.
I particularly liked the Ocean Blue matte colour on the GT-Line.
I can rabbit on here but the best thing for readers is to simply look at the photos.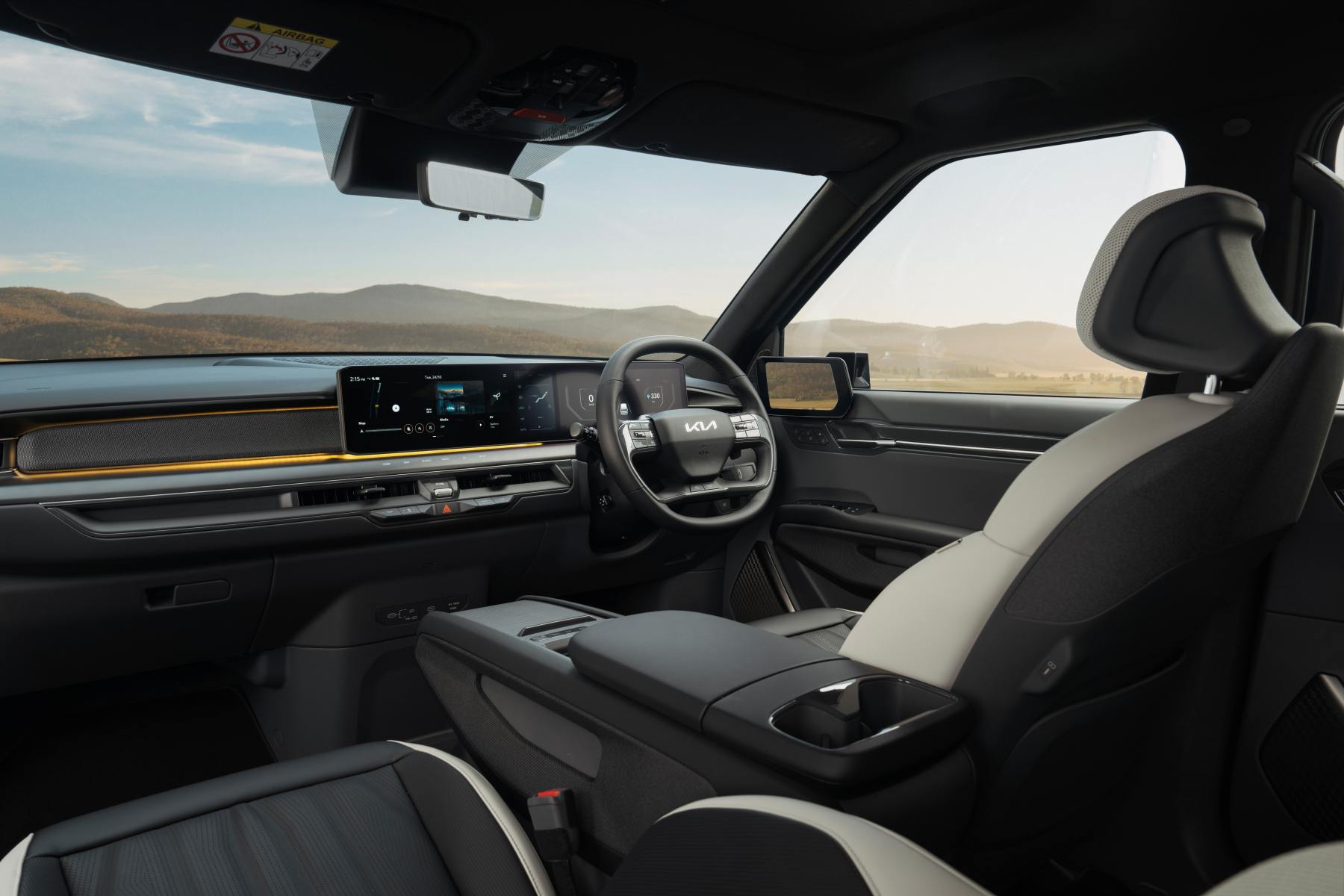 What about inside the EV9?
The immediate impression is space. Its cavernous.
The next impression is how well laid out everything is.
Seats in both models are particularly comfortable.
In front of the driver is an unusually designed steering wheel with a flattened top and bottom and it works. The familiar controls can be found on the spokes. Note that the drive mode selection is on the lower portion of the steering wheel. (it took me a little while to notice that)
The wheel also frames the digital driver instrument panel almost perfectly.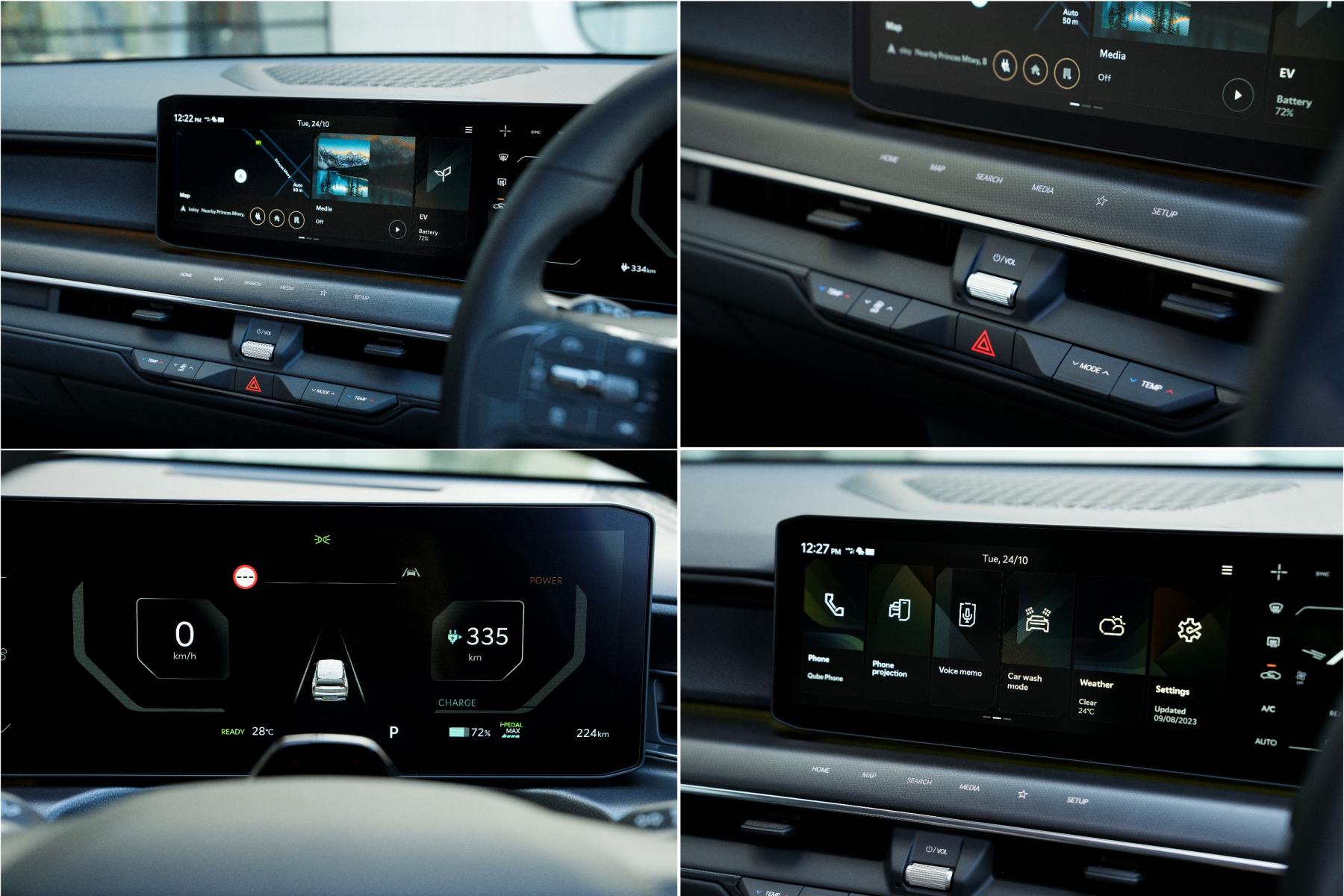 To the left is a huge central digital touch screen. Clarity is excellent.
One interesting design feature on the GT Line, is the control buttons that are integrated into the dash. Minimalist and functional. However, they can be inadvertently touched when you are resting your wrist there to use the touch screen. That's learned behavior to avoid for an owner.
The central screen comes with a multitude of functionality and configurability. Some may say too much choice. It may take owners a little while to become familiar with the functionality and make the most of it.
For me the arm rests on the door and central storage bin are the perfect height. This is perhaps one of the most comfortable cars I've sat in.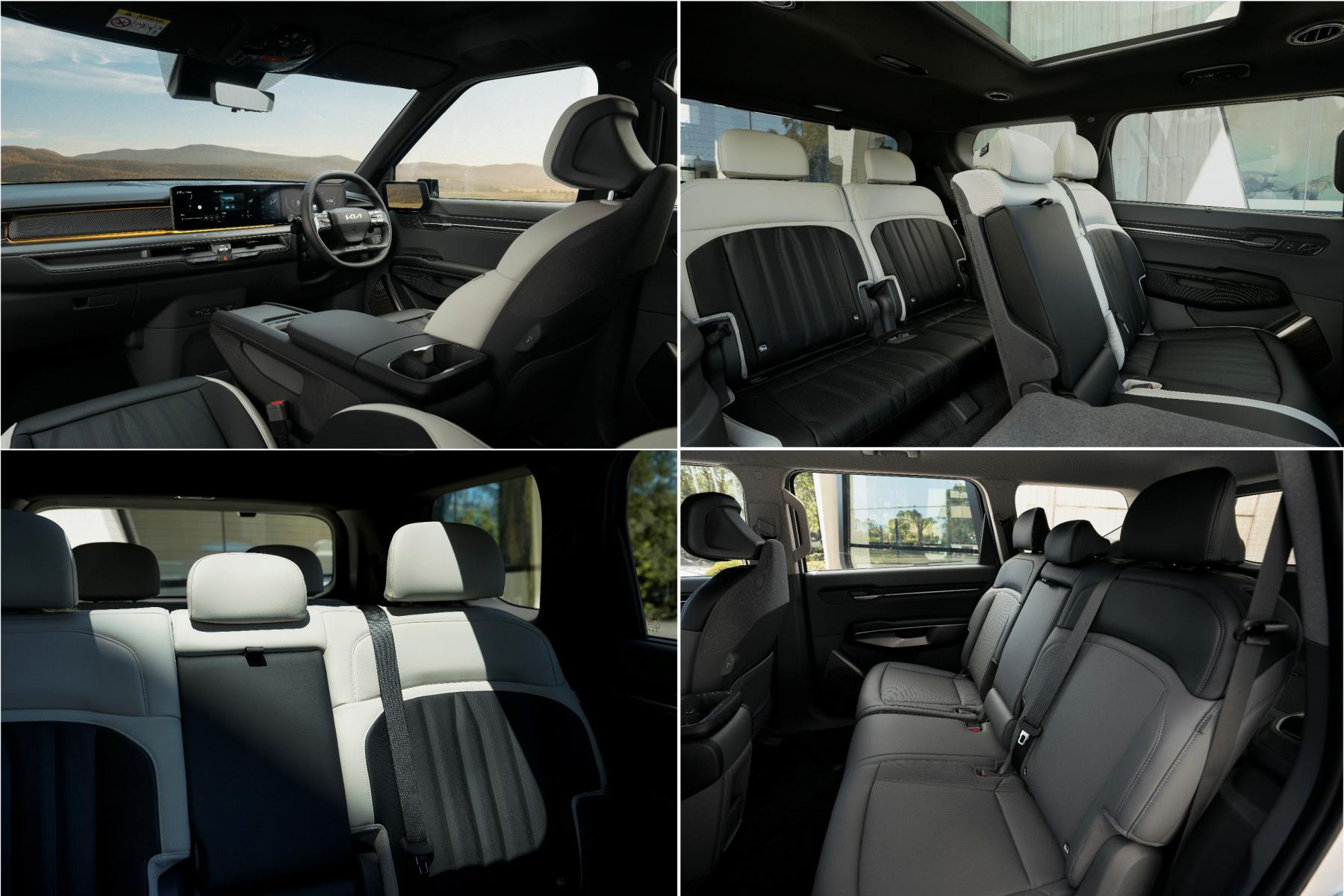 Seating
Both Air and GT Line models have comfortable seats.
Mid row seats have an abundance of room and I sat back there is absolute comfort.
Third row seats looks spacious for the class. Even though the Kia product manager Roland Rivero kept encouraging me to slide my bear like frame back there I politely declined.
Access to the third row is by tilting the second row and 'walk in'. This can apparently be done without removing a child seat.
The completely flat floorplan allows for maximum leg and foot room in all seats.
The GT Line is available with some seating options I believe. More details about those can be FOUND HERE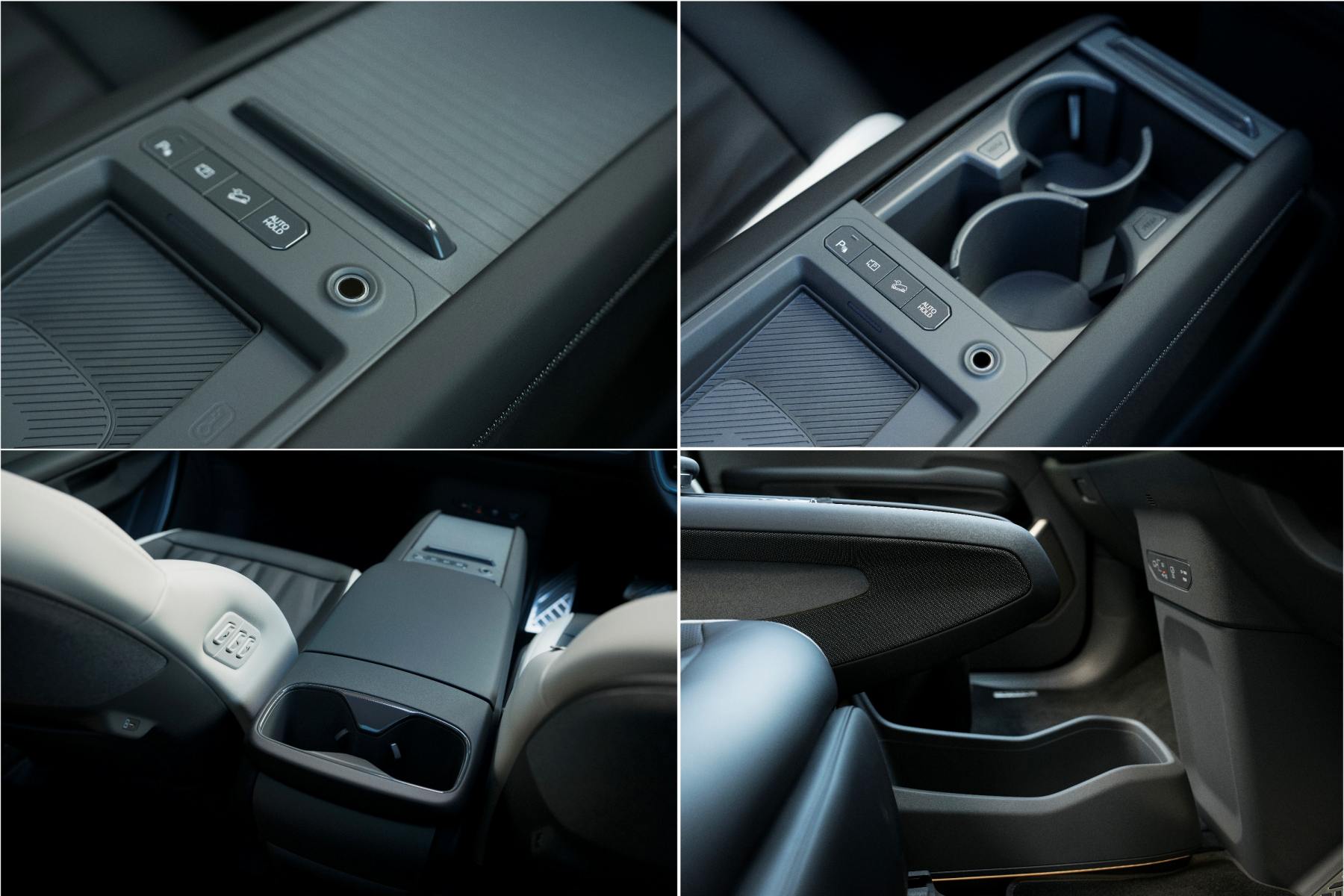 Some quick thoughts
There are practical USB inputs on the front lower dash area. However, there is a gap to anywhere a device can be rested so there will be a chord traversing that and will ruin the minimalist feel.
Central storage areas are huge. Large central bin with lift up lid, dual bin area and a big tray below.
The top portion houses the charging tray for smart phones. Some manufacturers are moving towards a slot style charging area and I like that.
In front of the central bin is a multi-use tray, for cups, other gear and has a slide cover. Its clever use of space.
Also clever is the steering mounted transmission controls. Tucked out of the way so they can't be mistaken, but functional.
The digital rear view mirrors on the GT-Line take a little while to become accustomed to them. The mirrors on the AIR are conventional and quite large.
All EV9 models have a fingerprint reader that can be linked to your profile and prevent starting if not used.
Front seats have mesh style headrests. They are soft, cooling, and different in a clever way.
Kia has extensive use of recycled materials yet manages to make them look normal. More details about Kia commitment to recycling can be FOUND HERE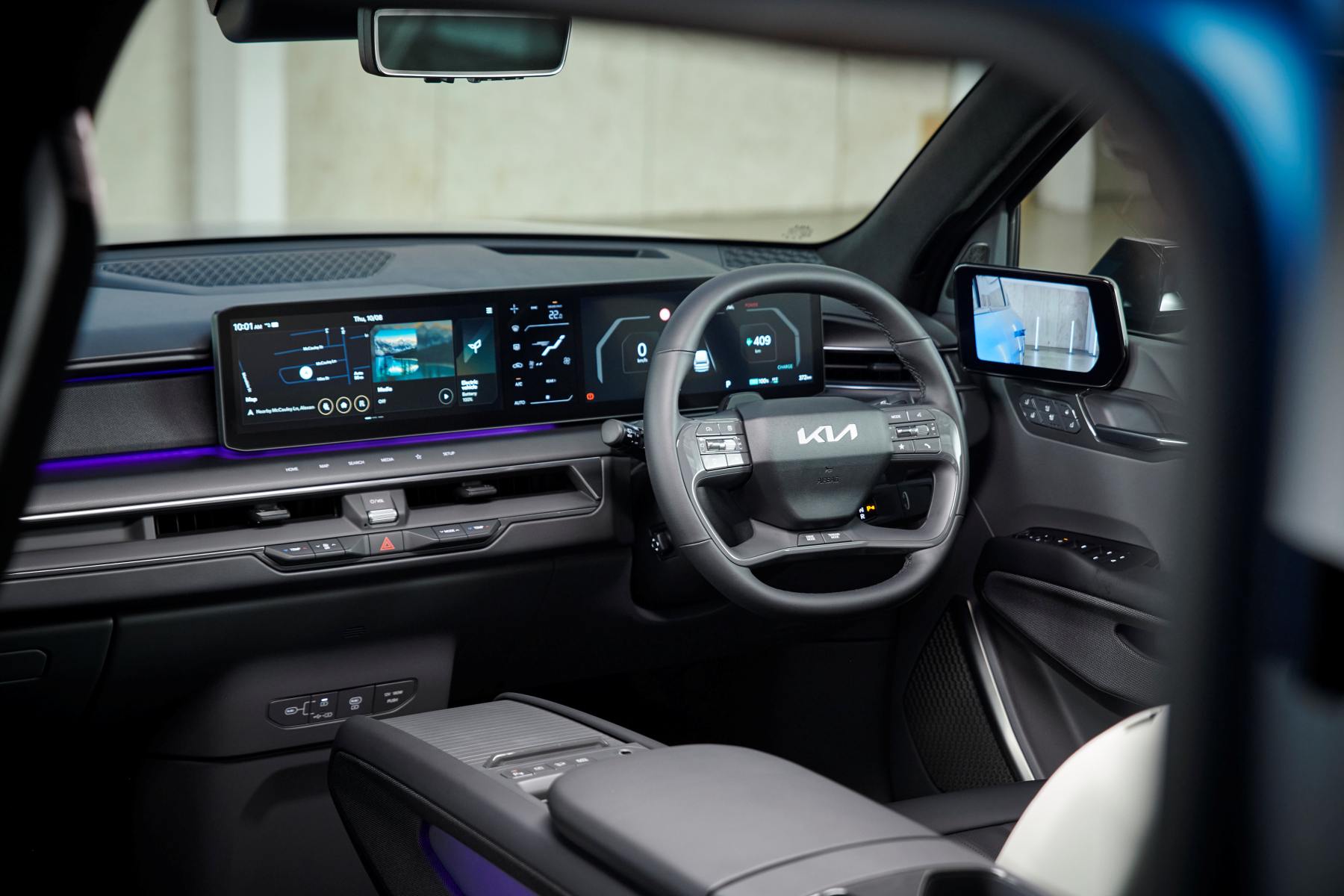 Infotainment Technology and Connectivity.
More details can be FOUND HERE

What about the motor and drivetrain.
The EV9 features a broad choice of electric powertrain configurations based on the Electric Global Modular Platform (E-GMP) and utilizing Kia's fourth-generation battery technology.
All models come with a one speed reduction gear Automatic transmission.
The Rear Wheel Drive (RWD) Air single motor model comes with a 76.1-kWh battery. This provides a claimed 160kW of power and 350 Nm of torque.
WLTP range is 443km. Top speed is 190km/h and 0-100km/h is claimed at 8.2 seconds.
Both All Wheel Drive (AWD) dual motor models the Earth and GT Line come with 99.8-kWh battery. This provides a claimed 283kW of power and 700 Nm of torque.
WLTP range for the Earth is 512km and the GT-Line is 505km.
Top speed is 200km/h and 0-100km/h is a claimed 5.3 seconds for the GT-Line and 6.0 seconds for the Earth model.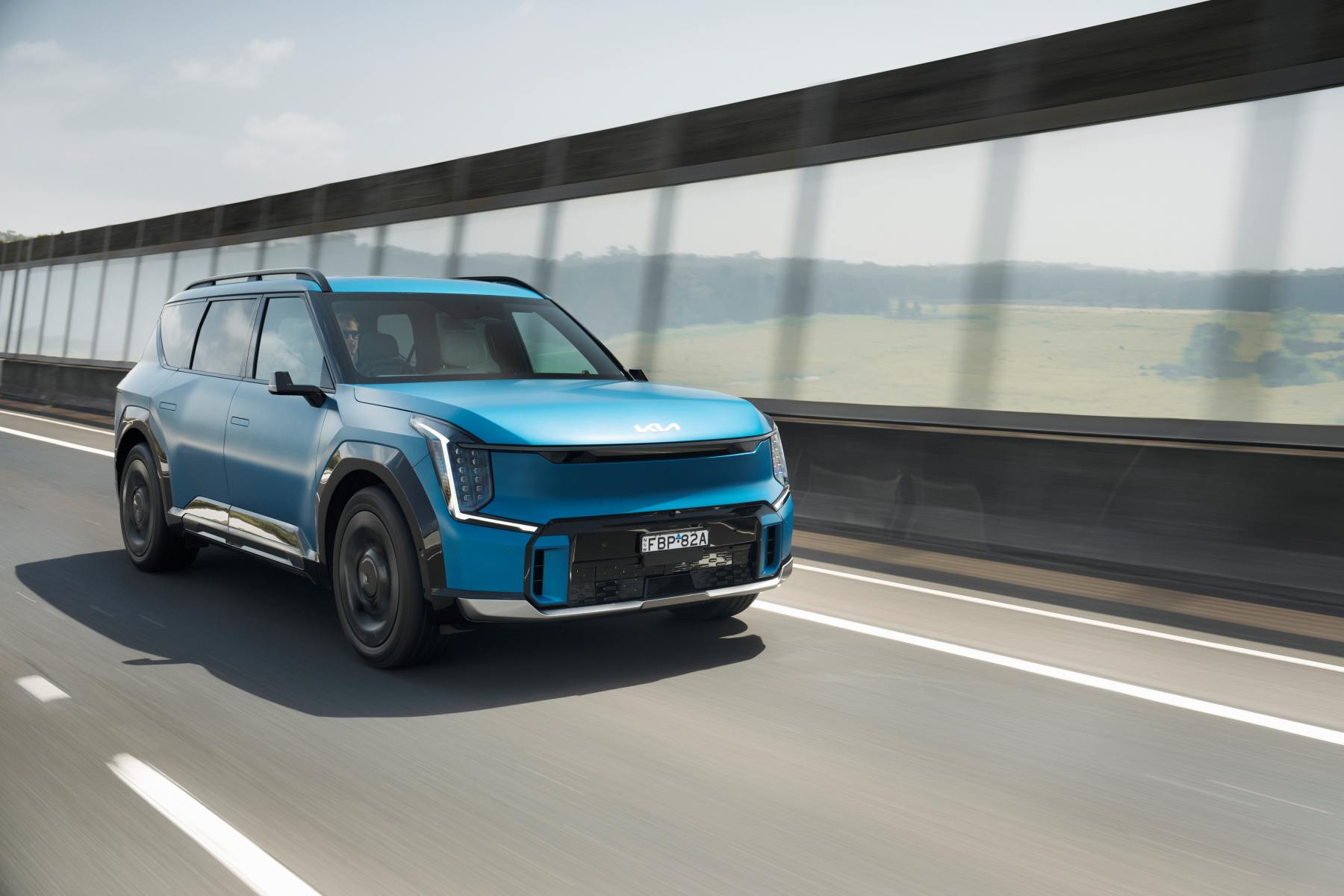 What is the EV9 like to drive.
First up this is a big and heavy SUV. It's a touch over 5 metres in length and some 2600kg in weight for the GT-Line model. It sits firm on the road.
Second thing to note is the extensive localised suspension tuning that Kia undertook on the EV9. Their suspension Guru, Graeme Gambold is a genius when it comes to fine tuning local vehicles, and it shows.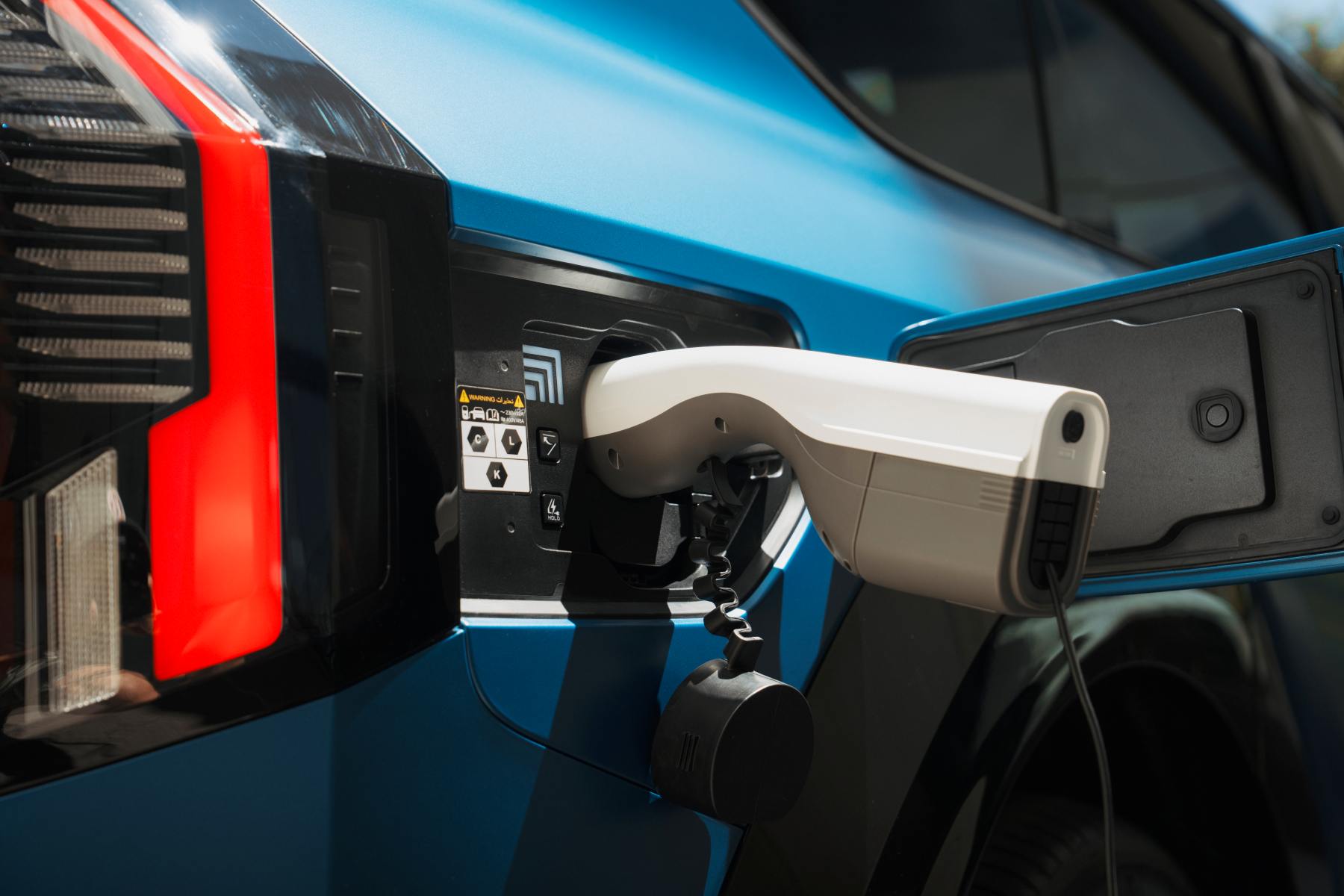 Drive program
The launch program took in a mix of urban traffic chaos, motorway driving and twisty mountain roads. All up a great showcase for the vehicle.
We drove from Sydney Airport, down south over the Sea Cliff bridge along the Grand Pacific Drive. From there we headed toward Gerringong on the south Coast for lunch at a seaside location with a stunning ocean vista.
From there we took the back road to Jamberoo, up to the famous Pie stop at Robertson and on to Bowral. Here the Air models needed a top up for the trip home, but the GT-Line vehicles still had 240km of range left.
Its fair to say the vehicles were driven enthusiastically buy the attending journalists.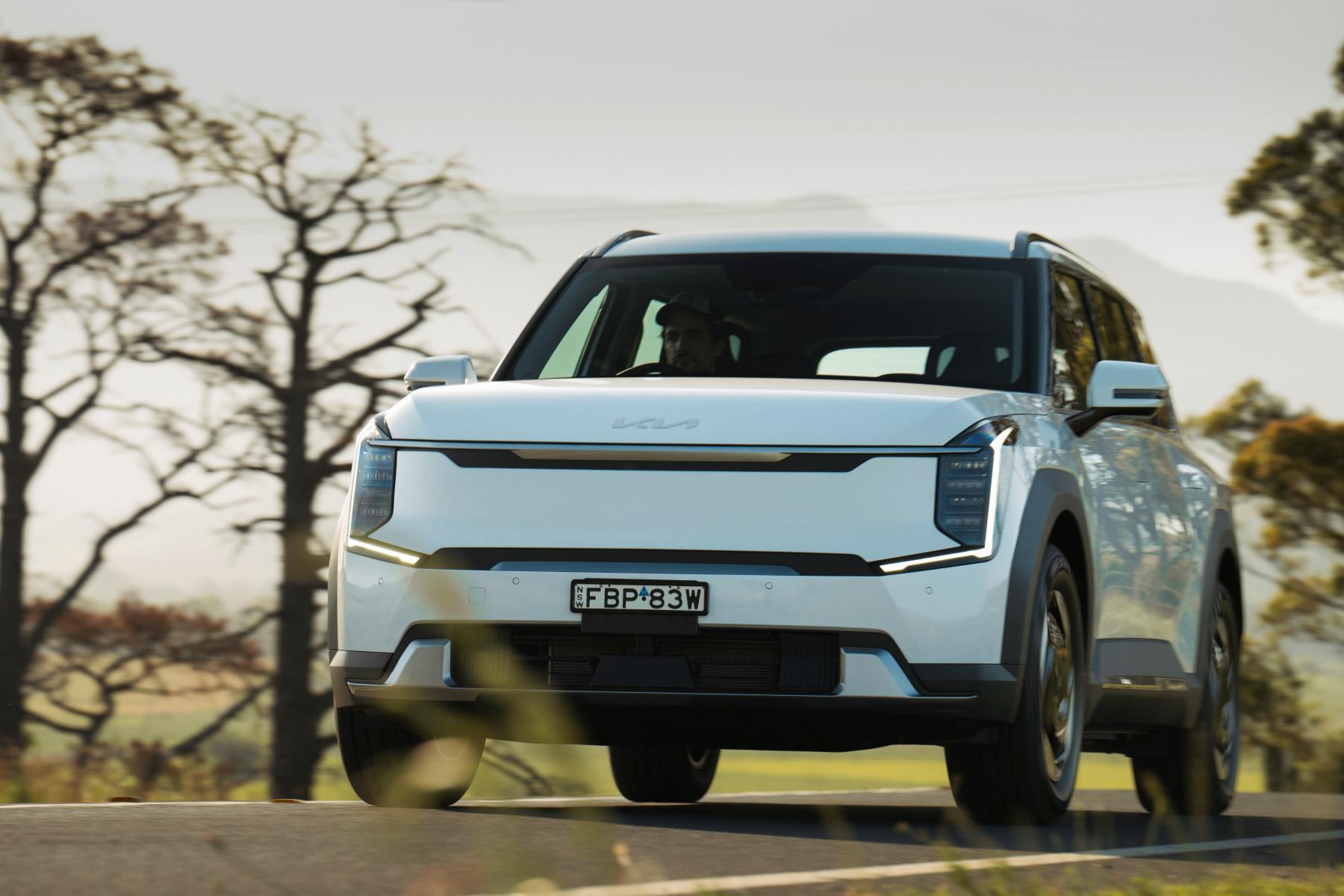 Air EV9
The rear-wheel-drive version is a touch lighter than the GT-Line and we had that for the twisty road sections.
It was responsive, soaked up the bumps and powerful enough to climb the mountain roads with ease. I would have thought that the 160Kw/350Nm would struggle with the 2400kg weight, but it seemed to do just fine.
However enthusiastic driving comes at the expense of range, as it does in a petrol engine.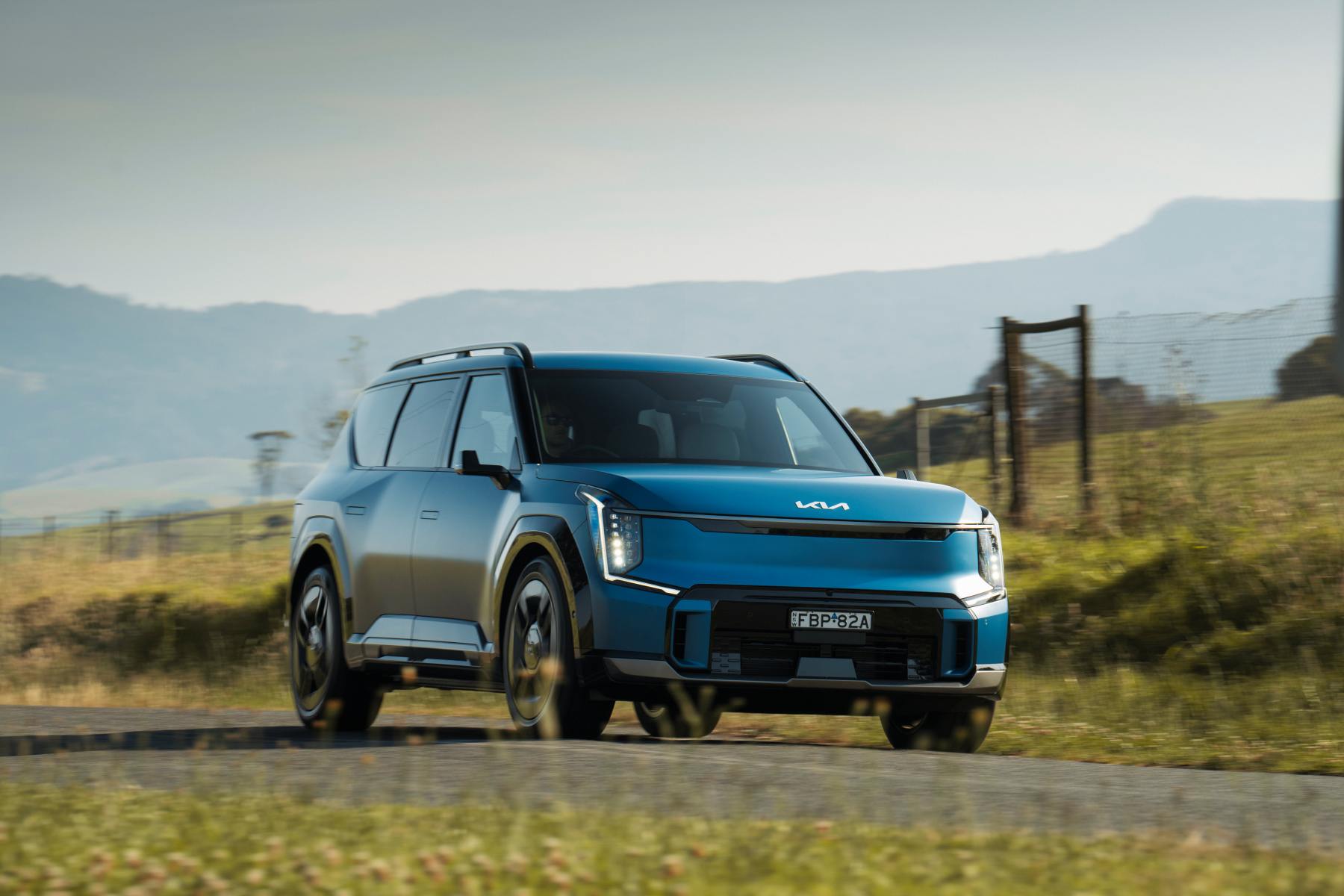 EV9 GT-Line
As good as the RWD version is, the AWD GT-Line is a lot better.
Its difficult to believe this SUV is as hefty as it is and its ride, handling and dynamics are equal to several highly priced premium SUVs.
EV9 is fast, directly responsive to driver inputs and has excellent driver engagement.
Its weight helps to keep the EV9 firmly planted to the road.
Did I mention how quiet it is.
That is both a blessing and a disappointment. While its engaging to drive I really miss the sound of a burbling exhaust note.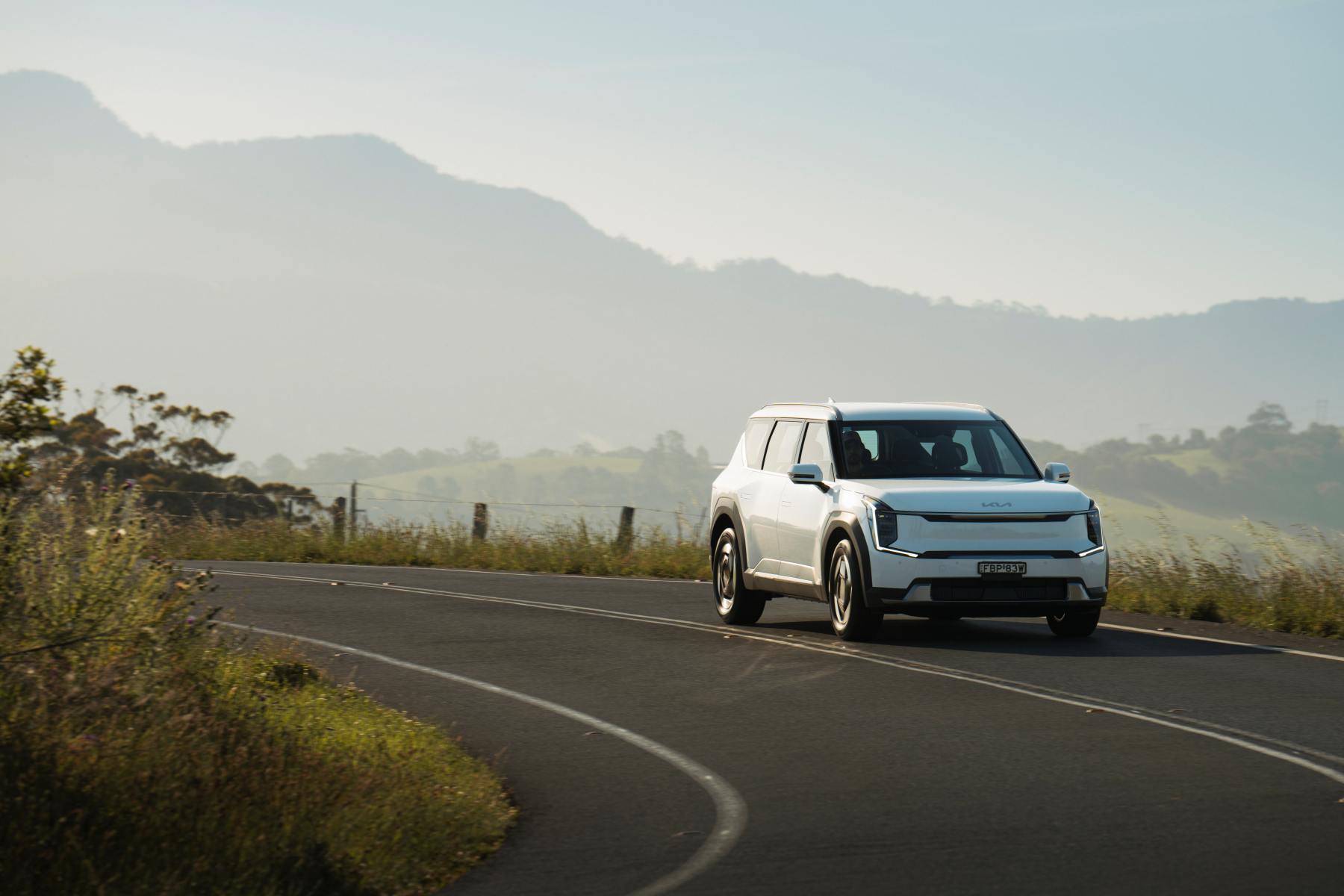 Overall driving impressions
I loved it. For such a big SUV its surprisingly nimble and responsive.
One thing that absolutely stood out is how whisper quiet it is inside. There is imperceptible road, wind or driving noise intrusion.
This is reinforced when you, for some inexplicable reason, decide to wind down the windows when driving along and your senses are immediately assaulted.
Speaking of windows, we drove into the M5 tunnel with the window down a touch (not me driving) and the A/C on fresh. As soon as we hit the tunnel the window wound up and the A/C changed to recirculation.
We exited the tunnel and the window and A/C returned to how they were before. That's intelligent convenience.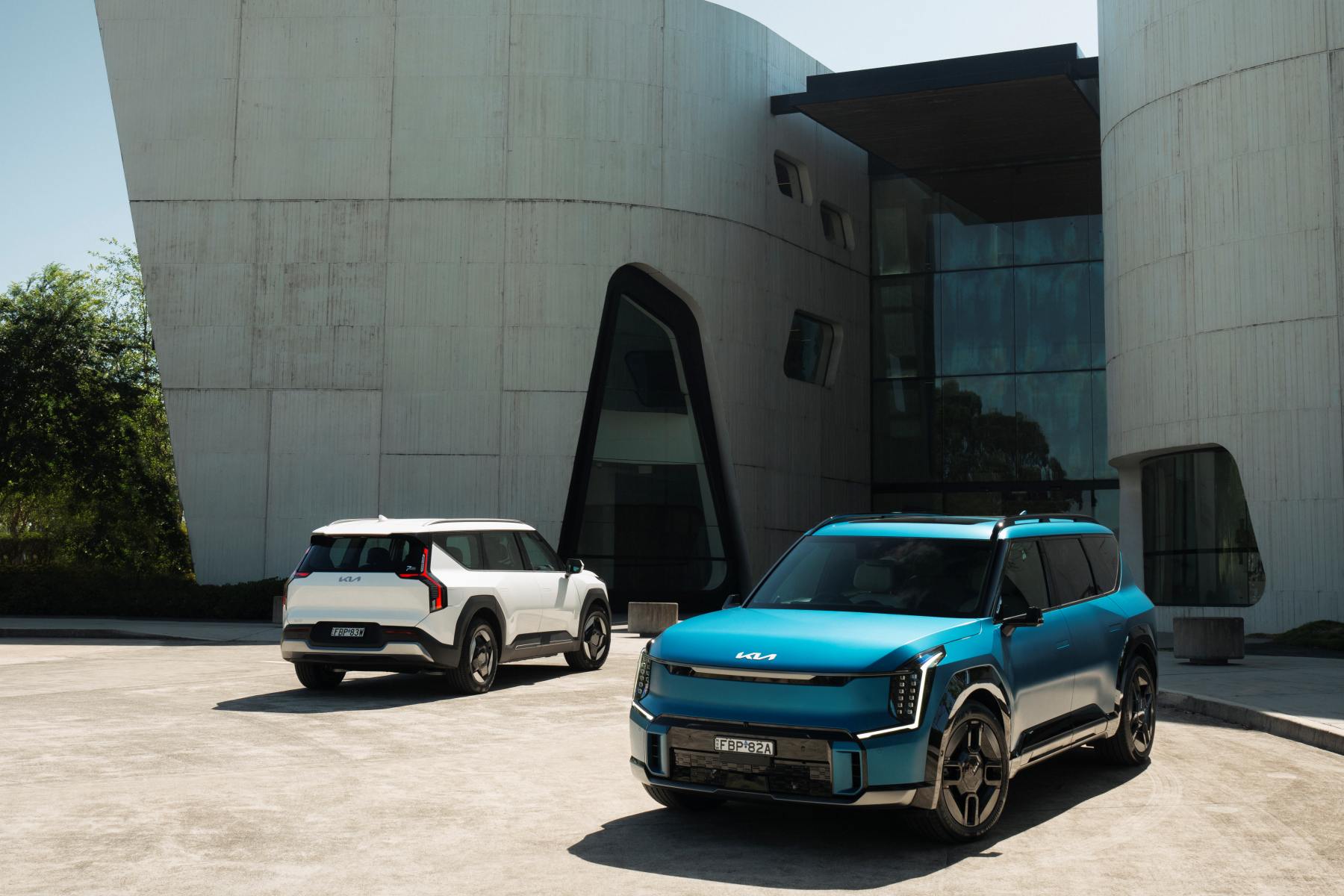 Some more Kia EV9 articles
Also look at.
The Kia EV9 is in a bit of its own category.
Buyers could look at the Mercedes Benz EQS, Audi e-tron, LDV Mifa9 or Volvo EX 90
Hybrid style seven seat SUVs that could interest buyers include: Mazda CX-90, Toyota Kluger Grande Hybrid,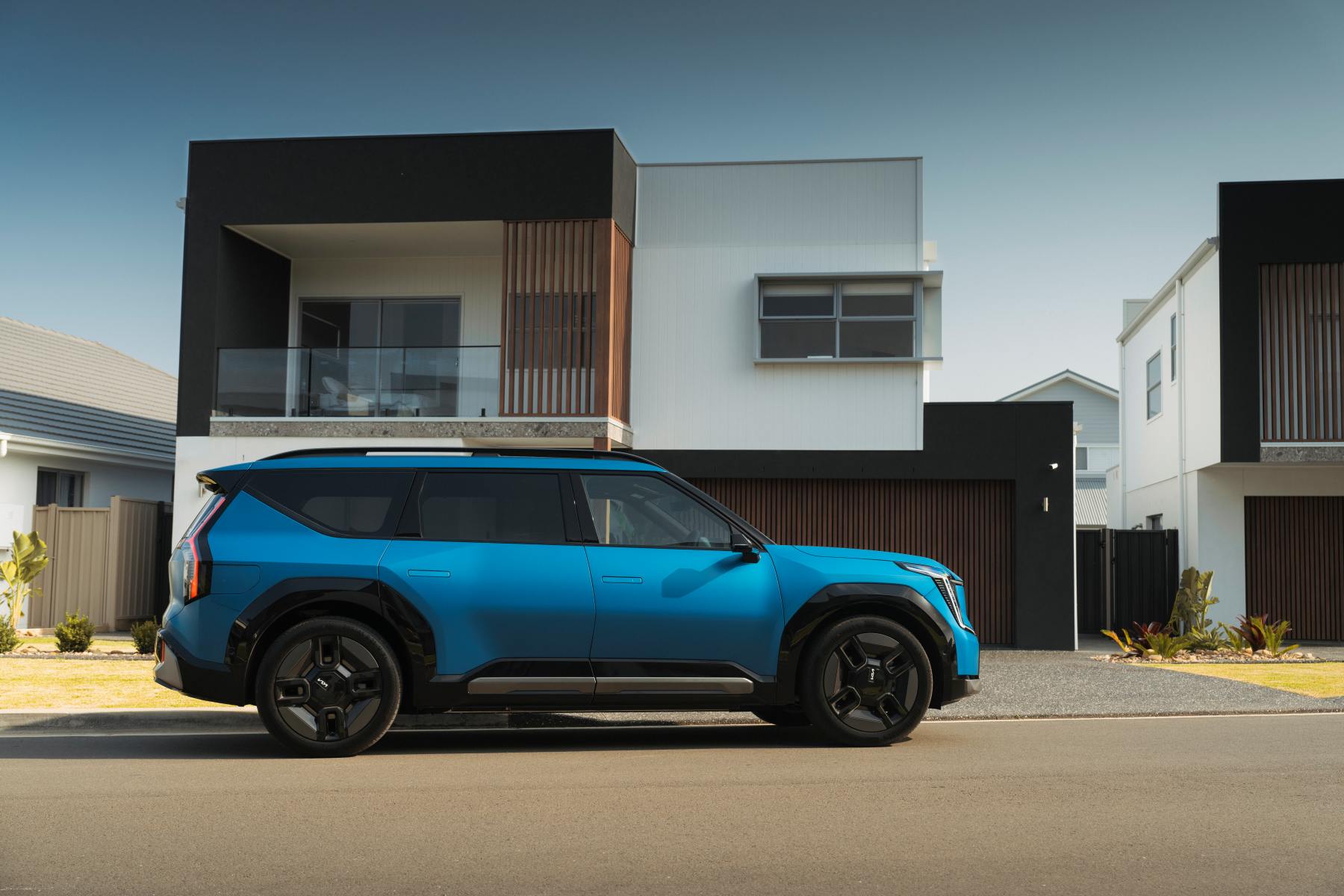 What is good?
Elegant design
Internal space /Modern interior
Dynamics and handling
What is not so good?
Heavy
Can take a long time to charge at home
Kia EV9 Model Walk
Rear Wheel Drive Single motor Kia EV9 Air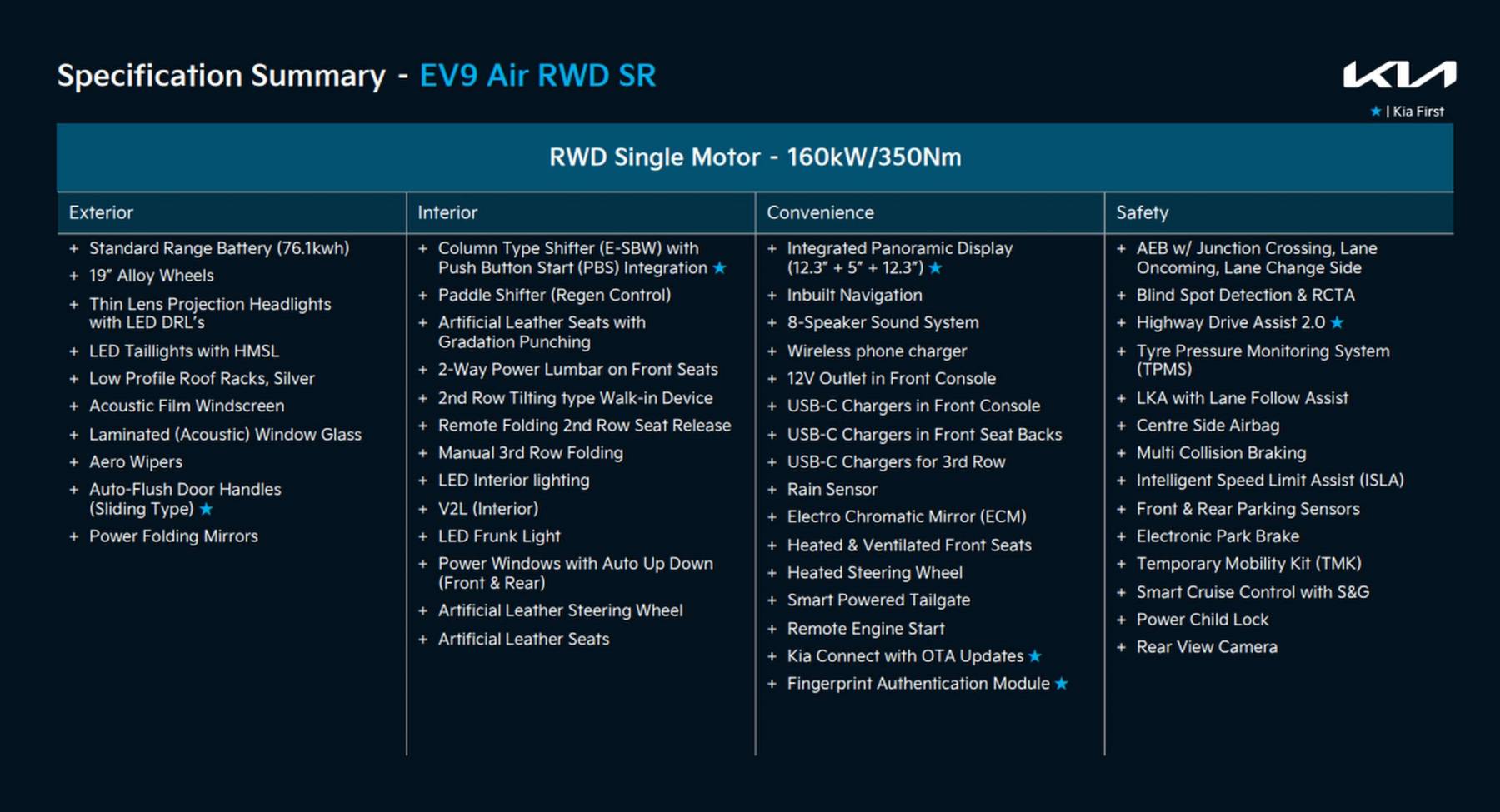 AWD Dual motor Kia EV9 Earth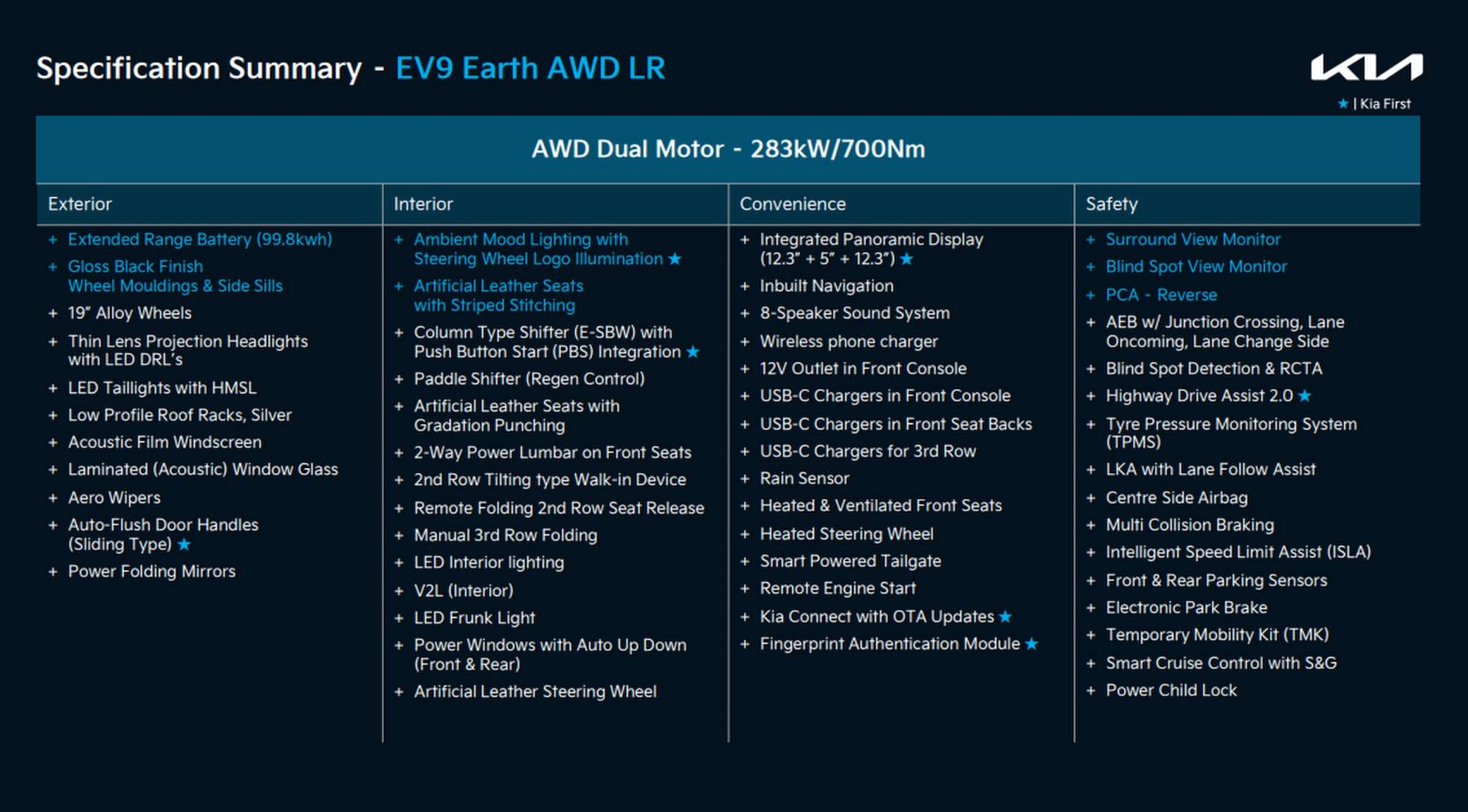 Dual Motor Kia EV9 AWD GT-Line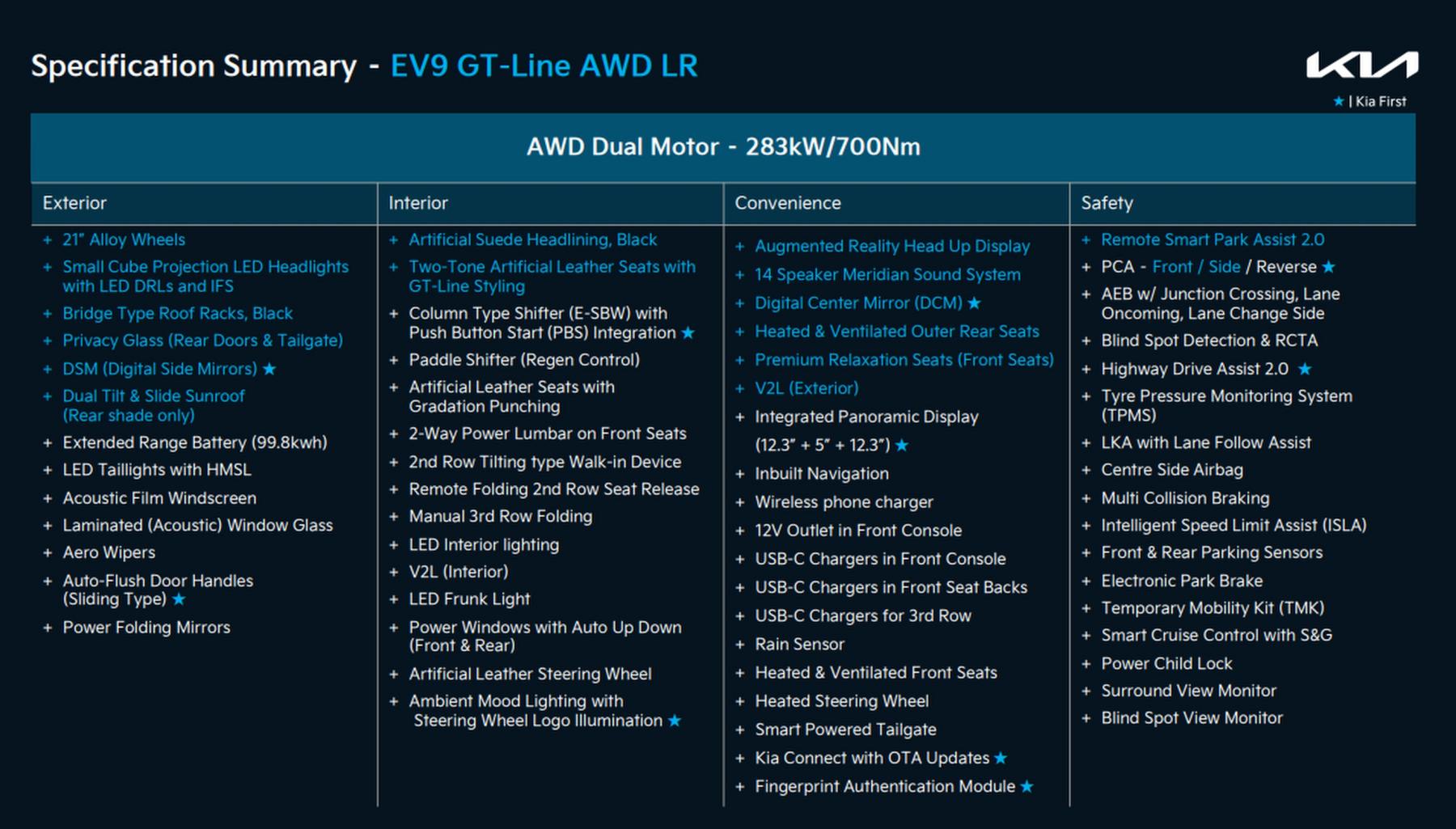 Kia EV9 final thoughts
My first impression is that the Kia EV9 is stunning.
Stunning in styling, practicality, interior ambience, and intelligent convenience.
Here is a vehicle that is pushing boundaries everywhere.
The onset of EV technology is levelling the playing field for brands.
Kia has just taken a giant leap forward and many premium brands should be worried.
When you consider the price of $121,000 plus the usual costs for the GT-Line, it could be considered an absolute bargain.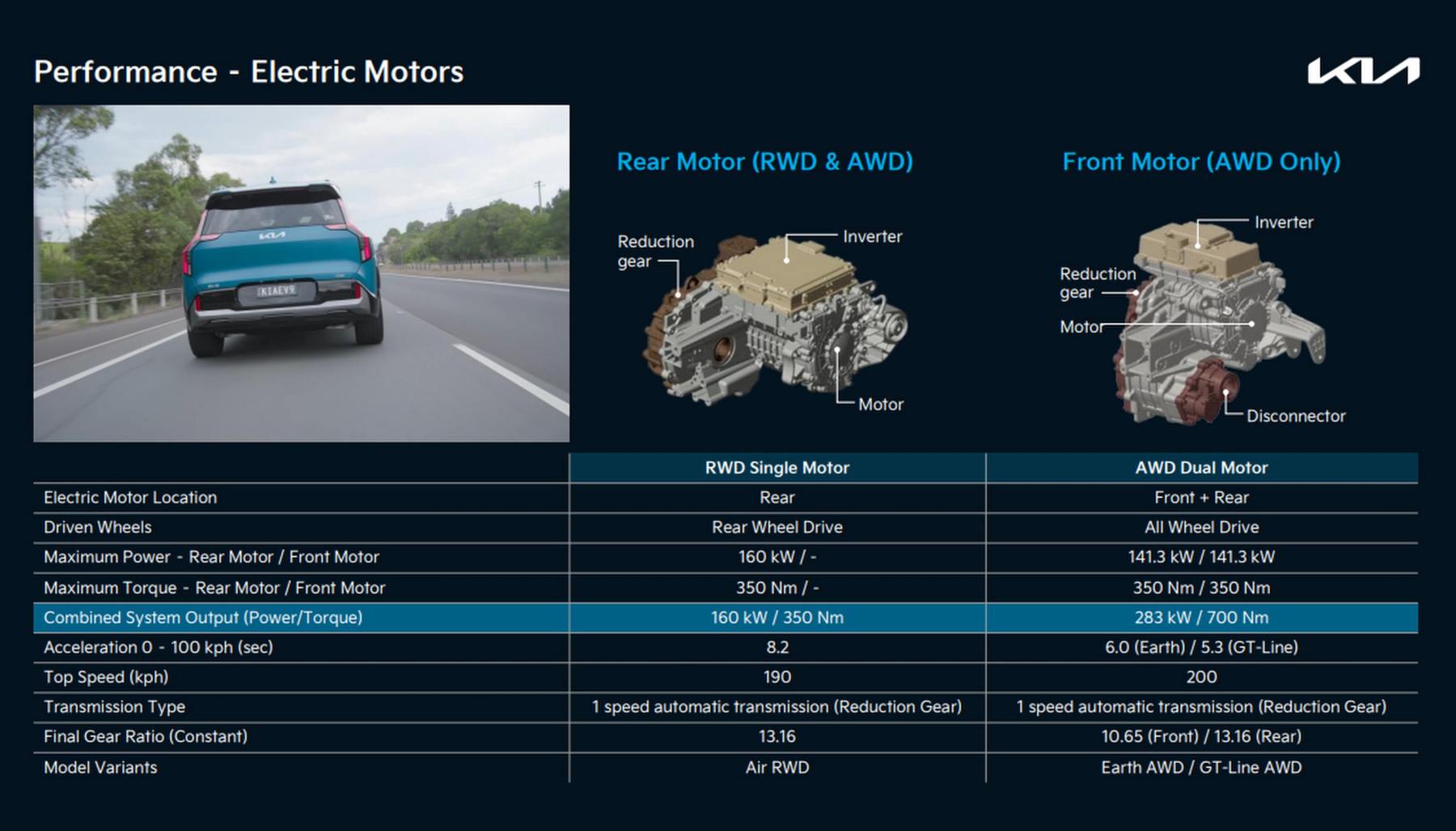 Kia EV9

Model

EV9 GT-Line SUV

Model Price
$121,000 MLP*
Engine
Dual Battery Electric motor
Drivetrain
One speed AT AWD
Battery Capacity / type
99.8kWh / Lithium Ion
Voltage / Capacity
552V / 180.9Ah
Power
283kW
Torque
700Nm
Range (WLTP) / ADR
505Km max / 11kW charging capacity
Economy / efficiency
25.6kWh/100km claimed
Fast Charge**/ Home
239 km range with 15 minutes ultra-fast 800-volt charging time

DC Fast charge 10-80% 50 kW charger 83 mins

Safety
TBC
CO2 Emissions
Zero driving emissions
0-100kmh/Top Speed
5.3 secs / 200km/h
Servicing
12mth / 15,000km service plan
Warranty
7yr/ Unlimited km 150,000km on high voltage components
Roadside Assist
7Yr. conditional roadside assist
*MLP Includes GST and LCT but excluding statutory charges, dealer costs and dealer delivery. See your dealer for RDAP. Does not include price of options. Some features mentioned in the article are options. RDAP means Recommended Drive Away Price (without options but including all other charges)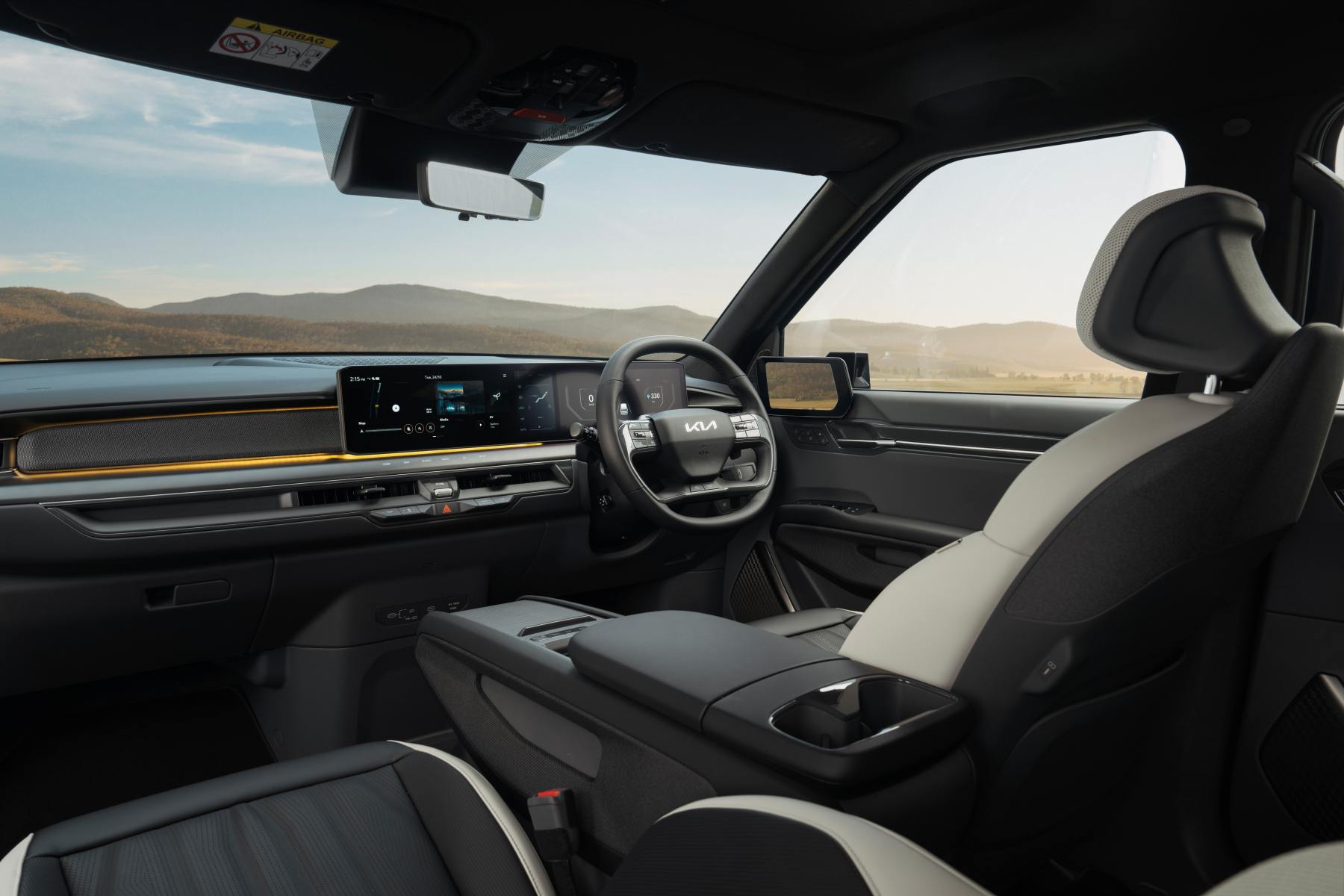 | | |
| --- | --- |
| Overall Rating     | 90/100 |
| Behind the Wheel | 9 |
| Comfort | 9 |
| Equipment | 9 |
| Performance | 9 |
| Ride and Handling | 9 |
| Practicality | 9 |
| Fit for Purpose | 9 |
| Style / Appeal | 9 |
| Technology/connectivity | 9 |
| Value for Money | 9 |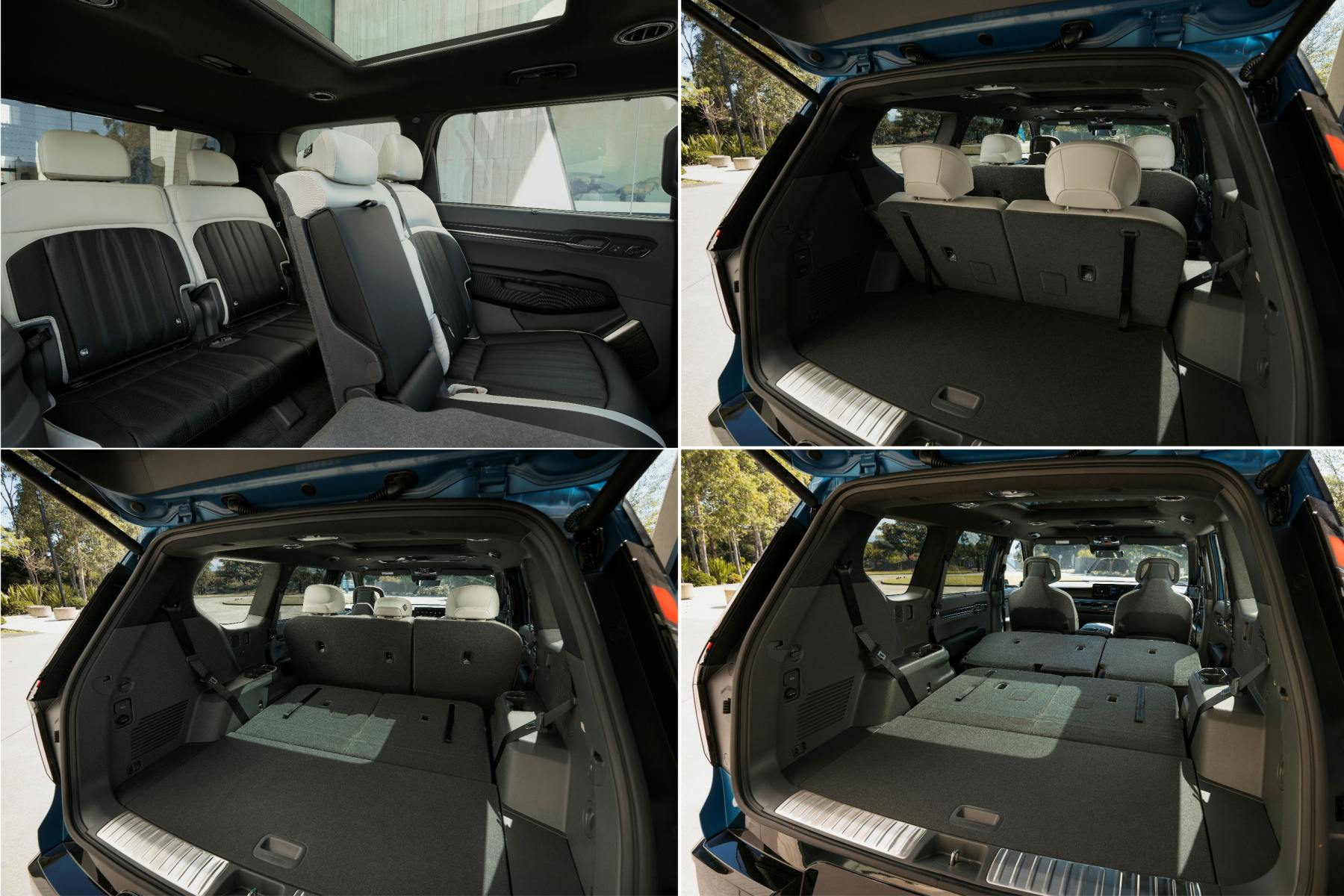 | | |
| --- | --- |
| Dimensions |   |
| Overall Length | 5010mm |
| Wheelbase | 3100mm |
| Width | 1980mm |
| Height | 1755mm |
| Wheels | 21 inch Alloys |
| Tyres | 285/45 R21 Continental |
| Max ground clearance | up to 177mm |
| Wading Depth | N/A |
| Approach | N/A |
| Rampover | N/A |
| Departure angle | N/A |
| Turning Circle KTK | 12.4m |
| Boot Min | 333L |
| Boot Max | 2318L |
| Kerb Weight | 2636kg |
| Battery weight | 563kg |
| Payload (kg) | 604kg |
| GVM (kg) | 3240kg |
| GCM | 5740kg |
| Towing Capacity | 2500kg |
| Tow Ball rating | 250kg |

Radio Segments Motoring Minute
You can listen to Motoring Minute  every day is heard around Australia on over 50 radio channels through the Torque Radio network.
Motoring Minute has an average daily audience of over 550,000 listeners. Radio segments are also syndicated through various news sites around Australia.
Additionally Motoring Minute is also broadcast as part of Overdrive Radio Program. This can be found weekly on the Community Radio Network across Australia.
Overall Rating
Summary
My first impression is that the Kia EV9 is stunning.
Stunning in styling, practicality, interior ambience, and intelligent convenience.
Here is a vehicle that is pushing boundaries everywhere.
The onset of EV technology is levelling the playing field for brands.
Kia has just taken a giant leap forward and many premium brands should be worried.
When you consider the price of $121,000 plus the usual costs for the GT-Line, it could be considered an absolute bargain.